"Interesting characters, growing interrelationships, plausible reasons for crime and an amateur to get involved in finding the answers–it's like visiting friends and having an adventure rolled into one book after another."
-
Gumshoe Review
… to the wonderful world of New York Times Bestselling and Agatha-nominated author Lorna Barrett. Okay, it's not really a world, but it's a place where she kicks off her Crocs and plays when she's not writing. Have a cup of coffee from beans freshly ground at the Stoneham Coffee Bean, take a look around the site, sign up for Lorna's newsletter, and find out more about the Booktown Mystery series.
For the most up-to-date news, and the latest contest winners, click here!  For Angelica's recipes, click here!
Coming In July:  Not The Killing Type
the 7th Booktown Mystery!

?????????????

Did you miss Booktown #6?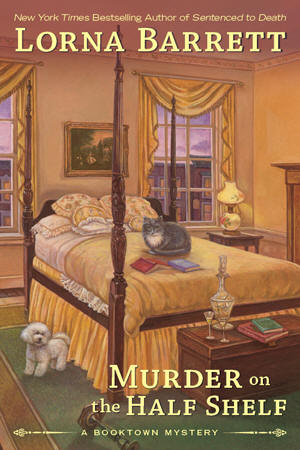 Murder on The Half Shelf
Publisher: Berkley Prime Crime
ISBN-10: 0425247759
ISBN-13: 978-0425247754
Amazon ~ Barnes & Noble ~
Books A Million ~ Indie Bookstores
Penguin (my Publisher)
Indigo/Chapters
Kindle ~ Nook ~ Sony E Reader
Kobo ~ Diesel  ~ iTunes
"If anyone has the formula for a frolicking fun mystery down pat, it's Lorna Barrett," (Roundtable Reviews) the New York Times bestselling author whose latest Booktown Mystery finds amateur sleuth Tricia Miles unexpectedly reunited with a man from a chapter of her life she closed long ago…
Stoneham, New Hampshire, is a haven to bookstores, including Tricia's own mystery shop, Haven't Got a Clue, but is sadly lacking in bed and breakfasts. Pippa and Jon Comfort's Sheer Comfort Inn opens its doors to the public in a week and the couple has offered some locals a free night as a trial run.
But what should have been a pleasant overnight stay for Tricia becomes a nightmare when she makes two startling discoveries: Pippa's murdered body in the backyard, and the fact that her husband Jon is actually Harry Tyler, a man Tricia loved—and believed dead—for nearly twenty years.
Now Harry is the prime suspect, but Tricia doesn't believe him capable of murder, regardless of her own feelings toward him. And even though Harry's led a life of lies, Tricia's learning that Pippa had her share of secrets that some people may have not wanted revealed…