Bob's Favorite Meatloaf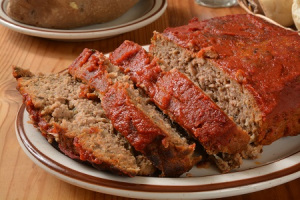 Ingredients
1 ½ pounds lean ground beef
2/3 cup seasoned breadcrumbs
1 egg, beaten
1 large onion, chopped
¼ teaspoon salt
¼ teaspoon ground pepper
¾ cup ketchup
1 tablespoon Worcestershire sauce
Combine breadcrumbs, egg, onion, salt and pepper; mix well.  Add to ground beef and mix well.  Shape mixture into loaf in baking dish.  Mix ketchup with Worcestershire sauce and pour over the top.
Bake at 350ºF (180ºC, Gas Mark 4) for 70-80 minutes (or until meat thermometer reads 160º).
Serves 4-6
Garlic Mashed Potatoes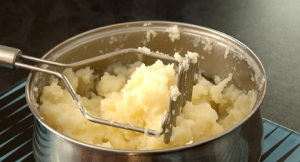 6 medium potatoes, peeled and quartered
4 to 6 garlic cloves
5-6 cups water
2 tablespoons olive oil (or softened butter)
1/2 teaspoon salt
Pinch pepper
Place potatoes and garlic in a large saucepan and cover with water.  Bring to a boil. Reduce heat; cover and cook for 15-20 minutes or until tender.
Drain, reserving 1/2 cup cooking liquid.  Mash potato mixture. Add oil (or butter), salt, pepper and reserved liquid; stir until smooth.
Serves 4-6
Quick-and-Dirty Garlic Bread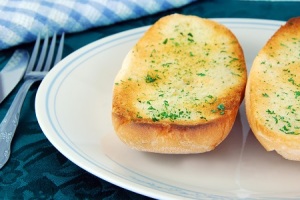 1 baguette or small (8 ounce) loaf of French bread
¼ cup butter, softened
¼ cup Parmesan cheese
½ teaspoon garlic powder (or 2 minced garlic cloves)
2 tablespoon dried parsley (fresh is always better)
Preheat oven to 400ºF (200ºC, Gas Mark 6).
In a small mixing bowl, combine butter with Parmesan cheese.  Add other ingredients and mix well.  Cut the baguette into half-inch pieces—but do not slice all the way through.  Spread mixture on both sides of each slice.  Wrap in aluminum foil and bake for 15-20 minutes.  (If you like it crispy, open the foil the last 5 minutes.)  Serve hot.
Serves 4-6
Potato & Leek Soup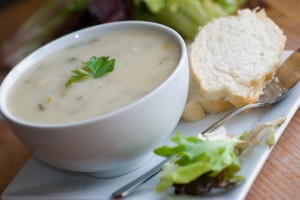 Ingredients
2 tablespoons butter
2 cloves diced garlic
2 good sized potatoes (or about 1 pound)
2 good-sized leeks (or about 1 pound)
4 cups chicken broth
¼ teaspoon salt
¼ teaspoon black pepper
1 cup milk or light cream
Clean and chop white part of the leeks.  Melt the butter in a large saucepan and add the chopped leeks and garlic.  Sautee them over a low to medium heat until the leeks are soft (about ten minutes).  Stir frequently; do not brown.
Add all the remaining ingredients to the pan except the milk/cream.  Bring the soup to the boil and then let it simmer for 15-20 minutes.
If you prefer a smooth soup, mash the potatoes in the pan, or puree in a blender.  Just before serving, pour the milk/cream into the soup; stir well and heat through.
Serves 4
Mini Spinach Quiches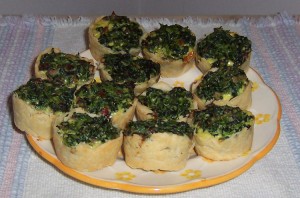 Ingredients
½ cup butter, softened
1 package  (3 ounces) cream cheese, softened
1 cup all-purpose flour
3 slices bacon
¼ cup chopped green onion
2 eggs
½ cup half-and-half cream
½ cup grated Parmesan cheese
¼ teaspoon salt
1/8 teaspoon ground nutmeg
1 (10 ounce) package frozen spinach, thawed and well drained (use your hands to squeeze out the water)
In a small mixing bowl, cream butter and cream cheese.  Add flour; beat until well blended.  Shape into 24 balls.  Press balls into the bottom and the sides of greased mini muffin cups.
Preheat oven to 350ºF (180ºC, Gas Mark 4). In a skillet, cook the bacon until brown and very crisp; drain.  Saute the onions in the same skillet with the bacon drippings, cook for 5 minutes, or until tender, stirring constantly; drain.  Place the onions in a medium bowl.  Crumble the bacon into small pieces, and add in with the cooked green onion.  Add the eggs to the bacon and onions; beat well.  Stir in the cream, salt, nutmeg and the Parmesan cheese. Add in the squeezed spinach; mix well to combine.  Divide the mixture into crust-lined cups (do not overfill).
Bake for 25-30 minutes, or until puffed and golden brown.  Cool in pan on wire rack for 5 minutes. Serve warm or cool.  Store leftovers in the refrigerator.
Makes 24
---
WANT MORE RECIPES?
Lorna's alter-ego, Lorraine Bartlett, has written two cookbooks: Recipes to Die For (A Victoria Square Cookbook), featuring the characters and their favorite foods and drinks from the Victoria Square Mysteries, and The Best From Swans Nest, highlighting character Kathy Grant's B&B Swans Nest Inn.
Lorna/Lorraine posts every regularly on the Cozy Chicks Facebook Group Page. The (collective) Cozy Chicks have published three cookbooks, The Cozy Chicks Kitchen, Tea Time With The Cozy Chicks, and (a free download) The Cozy Chicks Picnic. Click this link for more information on these terrific cookbooks, containing recipes from the Chicks' and their cozy mystery characters.