Excerpt : Purchase Information : Reviews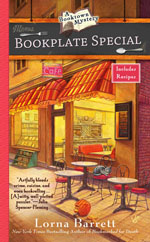 Tricia Miles, owner of Haven't a Clue mystery bookstore, is still settling into Stoneham, New Hampshire, the kind of town where everybody knows your name—and where everyone's quick to lend a hand, even when murder is afoot…
The kinder folks of Stoneham might call Pammy Fredericks a free spirit. The less kind, a freeloading thief. Tricia has put up—and put up with—her uninvited college roommate for weeks. In return, Pammy, has stolen $100, among other things. But the day she's kicked out, Pammy's found dead in a dumpster, leaving loads of questions unanswered. Like what was she foraging for? Did her killer want it too? To piece the case together, Tricia will have to dive in head-first.…
GET YOUR COPY
Amazon
Barnes & Noble
Books A Million
Berkley Prime Crime
Find it through IndieBound
Kindle US ~  Nook ~ Kobo ~ Apple Books ~ Google Play

Angelica glanced at the clock above her workspace at Booked For Lunch, then stretched her neck to look back through the swinging half-doors that separated the kitchen from the dining area. She sighed. "My goodness, my new hire's been on her break a long time."
Tricia pushed aside the orange-slice garnish on her plate.
Angelica sighed and again glanced at the clock. "It may have been a mistake to take on my new hire. It's . . . it's—" She stammered. "Oh, I may as well just tell you. I hired Pammy."
Tricia nearly choked on her tuna. "You what?" she spluttered and started choking.
Angelica clumped around the counter on her black high-heeled shoes to slap Tricia on the back. "Do you need me to do the Heimlich maneuver? I learned how to do it properly at my county-sponsored safety course, you know."
Tricia pounded on her chest, and then took a sip of her cocoa to help control the urge to cough. "Why on earth did you hire Pammy?"
"I felt sorry for her, what with you throwing her out and all."
"I did not throw her out!" Tricia took another sip of her cocoa. "I simply asked her to leave, and she agreed it was past time."
"Really." Again, it wasn't a question.
Tricia took in her sister's guilty expression. "What did she tell you?"
"Not much. But when she spoke about it, she sounded quite wounded." And Angelica sounded quite judgmental. Trust Angelica to take someone's—anyone's—side against her.
Tricia glared at her sister for along moment before returning to her lunch.
"Why don't you go out back and apologize to Pammy? I'm sure she'd forgive you. And it wouldn't hurt to let her come back and stay with you for a few more days—just until she gets settled."
"I don't have anything to apologize for," Tricia said, viciously stabbing a chunk of tuna. "And I do not want her staying with me for even one more night. You've got just as much room in your apartment—she can stay with you, if you're that worried about her."
Angelica ignored the suggestion. "Well, then, just go talk to her. You two have been friends for way too many years to just throw it all away."
Would she feel that way if Tricia told her about the stolen check?
"I've seen her maybe three times in the last eighteen years, before she camped out on my doorstep for two weeks, so it's not like we've been close."
"Yes, but it's important to maintain old friendships—especially as we age."
Tricia eyed her sister's get-up; she looked like she was more than two weeks early for Halloween—hardly an example of aging gracefully. Angelica had added on years, but her outlook hadn't caught up with the inevitable march of time.
Angelica nudged Tricia's arm. "Go on. And while you're out there you can see if they've delivered my one-and-a-half-yard Dumpster. It was supposed to arrive by this afternoon—two weeks late."
"I don't want to go out there at all."
"Tricia," Angelica said, using the same tone of voice their mother employed when she'd tried to shame the girls into doing something she wanted.
"Okay, I'm going. But when I get back, I'm going to finish my lunch and then I'm going back to work."
"Of course, of course," Angelica muttered, her voice muffled as she leaned under the counter.
Tricia sidled past the lunch counter and pushed through the swinging half-doors into the narrow kitchen. For a short-order cook, Jake was fairly temperamental. Angelica had complained that he'd often leave without fully cleaning his workspace. As expected, he was already gone for the day and left the place a mess of unwashed pots and pans and recipes. Angelica, or more likely Pammy, had her work cut out for her.
The door to the back alley was closed. Tricia opened it and stepped onto the concrete pad. It was obvious no Dumpster had yet been delivered. Nestled close to the building were two large gray, bulging ninety-five gallon trash carts. Sticking out of one of them was a pair of jeans-clad legs, with a worn pair of pink Crocs on the feet.
Pammy.
GET YOUR COPY
Amazon.com
Barnes & Noble
Books A Million
Berkley Prime Crime
Find it through IndieBound
Kindle US ~ Nook ~ Kobo ~ Apple Books ~ Google Play
 (Check out the recipes from Bookplate Special.)

Romantic Times
The third top-notch Booktown mystery is a cleverly plotted cozy with everything a reader could want: mystery books, delicious food and bad guys. With its bookstore setting and small-town charm, this series is bound to be a favorite for cozy readers.
Feathered Quill Book Reviews
Get ready to pop a lot of popcorn, cuddle up under a blanket, and spend a little time with Tricia Miles and crew. Ms Barrett, queen of the cozies, has a winner here!
The Gumshoe Review
Once again, Barrett has written an interesting, plausible murder mystery with an amateur sleuth that not only entertains but educates. What you learn is all germane to the plot and information needed to solve the mystery, but it was a glimpse into a culture and lifestyle that I hadn't really thought about. Another excellent installment in this series.
Richmond Times-Dispatch Book Bag
Uninvited guests can be a real pain, but when one gets herself killed … That's the problem facing Tricia Miles, owner of Haven't Got a Clue mystery bookstore in Stoneham, NH, in "Bookplate Special," the third entry in Lorna Barrett's series. Tricia's old college roommate, Pammy Fredericks, has been freeloading for two weeks when Tricia tells her it's time to move on. Not long after, Pammy is found dead in a trash cart behind the restaurant owned by Tricia's sister, Angelica. Mix together a long-buried secret, a diary, blackmail, pumpkin vandalism and Tricia's terrier-like determination to find the killer, and the plot moves quickly to an unexpected conclusion. And who could resist a cat named Miss Marple? Barrett is skilled at making her characters flawed and fully believable. This book-based book is a perfect autumn read—right down to those smashed pumpkins—for mystery aficionados.
Lesa's Book Critiques
Lorna Barrett continues to build the characters, the stores, and the setting in her Booktown Mystery series. Bookplate Special is the most enjoyable, and the most solid, successful story in the series yet. I'll be waiting for book four, Chapter and Hearse.

Book Illuminations
BOOKPLATE SPECIAL is a wonderful cozy mystery for readers looking for a bit of quirkiness, a slight edginess, or just something more to their cozies. Lorna Barrett just gets better and better!

"Fans of Carolyn Hart and Denise Swanson rejoice! The latest gem in Lorna Barrett's Booktown series, BOOKMARKED FOR DEATH sparkles. This first-rate cozy artfully blends crime, cuisine and even bookselling in a cheerful, witty, well-plotted puzzler." —Julia Spencer-Fleming, Agatha and Anthony winner and author of ONE WAS A SOLDIER