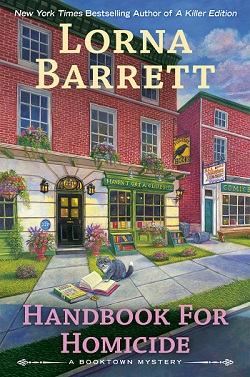 Booktown #15
Haven't Got A Clue bookshop owner Tricia Miles's relationship is on the rocks. After a not-so-fun vacation with her on-again-off-again lover, Marshall Cambridge, Tricia's hoping for smooth sailing back in Stoneham. Unfortunately Booktown greets her not with blue skies but with another body.
When Tricia's assistant manager, Pixie, finds homeless vet Susan Morris's body behind Haven't Got A Clue, Pixie's checkered past makes her the prime suspect. Tricia sets out to clear Pixie's name armed with only an anchor insignia earring found at the scene of the crime.
As Tricia digs deeper she discovers Susan was involved in a scandal right before retiring from the Navy—but since nobody in the village knows Susan, even Tricia's one lead is in danger of drying up. With family drama brewing in the background and all of Stoneham convinced her manager is a murderer, Tricia knows she has to get to the bottom of the case soon before Pixie's future is sunk.
Amazon | Barnes & Noble | Books A Million | Chapters/Indigo  Indiebound | Book Depository  (free shipping worldwide)
Kindle US | Nook | Kobo
Apple Books | Google Play
Click here for audio editions.
---

"Handbook for Homicide can be read as a stand-alone, but as with most series, it is best read in order to get the full effect of the characters and their history together. This installment did end with quite the cliffhanger, so it is going to be a long wait for book fifteen. Overall, another winner for Lorna Barrett and delightful addition to this fan favorite and one of my personal favorite cozy mystery series!"
–Fresh Fiction
"A good read for fans of cozies. Delightful and entertaining."
–Nightcap Books
"Plot twists kept me guessing. I had a couple of culprits in mind and was happy with the unique resolution! I'm looking forward to the next in series, and highly recommend Handbook for Homicide!"
–Open Book Society
"Tricia is in her forties, a nice change of pace from younger main characters in other series. She doesn't take unnecessary risks but is feeling bored with her life as it is. In previous books, Angelica could be overbearing as she knows what she wants and how to get it. This time, she's more dependent on others until she's mobile again. Angelica's dog, Sarge, and Tricia's cat, Miss Marple, only add to the fun."
–KRL News and Reviews
"Handbook for Homicide is a perfect installment to the Booktown Mysteries. Returning fans will not be disappointed in the storyline, or the amount of twists and turns it will take to get to the bottom of a murder. Indeed, you'll have a great time on this journey with Tricia, and will not expect the ending."
–Lisa K's Book Reviews
"Handbook for Homicide is an appealing cozy mystery with a valuable video, chamber of commerce chaos, a sidelined sister, a cookie conundrum, helping the homeless, and courtship challenges."
–The Avid Reader
---
Watch the book trailer!
---

Stoneham's police chief, Grant Baker, turned his stern gaze on Tricia. "How long did it take after your return home before you found your latest stiff?"
"Hey," Pixie protested. "Have some respect. That's a dead lady you're talking about."
Baker ignored her, and continued to stare at Tricia. Mr. Everett had returned from the bank and stood a discreet distance from the trio looking quite upset, but Tricia had to attend to Baker before she could reassure her friend and employee.
"For once, it wasn't me who found a corpse. It was Pixie," Tricia said, feeling just a little irritated.
Baker turned his attention to Pixie. "And?"
"Well, I was taking out the trash when I smelled that awful smell," she said rather sheepishly.
"And did you know what it was?"
"Yeah. I've smelled that stink before."
"And what was the occasion?" Baker asked, his tone just a tad threatening.
"When I was an EMT. More than once we were called out to a crime scene only to find a sti—" She stopped herself. "A deceased person." She shook her head. "That poor lady. Stuffed in a dumpster."
"How do you know she didn't just crawl in there and die?" Baker demanded. "And how do you know it's a woman?"
"It was obviously a woman's shoe," Tricia said flatly.
She looked out the back door, where a couple of officers were unwinding a roll of yellow crime-scene tape.
"Do you have any idea who the deceased is?"
Tricia shook her head and glanced at Pixie, who seemed to squirm. Baker's gaze swiveled her way, too.
"Um, maybe."
Baker raised an eyebrow.
"I kind of recognized the shoe," she admitted.
"And why was that?" Baker asked.
"Because … because it used to be mine."
"Really?" Tricia asked, surprised.
"I think the dead person might be Susan Morris."
Baker frowned. Tricia didn't recognize the name.
"Why was she wearing your shoes?" the chief asked.
"Because I gave 'em to her. Susan and me were kind of acquaintances."
"What does 'kind of' mean?" Baker pressed.
"I would see her at the laundromat in Milford sometimes—this was before me and Fred got our house here in the village—and we talked."
"What else do you know about her?" Baker asked, and Tricia found herself leaning in to listen.
"She lived in her car."
"She what?" Tricia asked, taken aback.
"It was no big deal—at least, not to Susan."
"Why would she have to live in her car?" Tricia asked.
"Because she couldn't afford an apartment. But she did okay. She paid her car insurance, had a PO box for her mail, and stowed everything she needed in her car."
Tricia thought of all the stuff she owned—or, rather, how much it owned her—and couldn't imagine a life without a clean bed, food in the fridge, and a real roof over her head. "How could she survive living like that?"
Pixie shrugged, as though the question didn't have much merit. "It's just what you do when you're broke. I lived in my car for six months between stints in the big house," she admitted.
Tricia cringed inwardly. Pixie had a criminal record longer than both of her arms. Did she really need to remind Baker of that when she'd just found a dead body? Her crimes were not violent in nature. The former lady of the night was no doubt going to be in Baker's sights as the prime subject in the death. That's just the way cops roll. Tricia looked in Baker's direction. He didn't seem surprised by Pixie's revelation.
"Did you know this woman lived in her car?" Tricia asked Baker.
"Yeah, but we tried to keep her out of the village once the sun set. It sets a bad example. We don't want others taking up residence just anywhere. I'd even asked the Board of Selectmen to enact a policy, but it hasn't yet come up for a vote."
"Did you do anything to help her? Perhaps suggest she try to get help from Social Services?"
"That's not my job."
"Well, maybe it ought to be. Then perhaps a homeless person wouldn't have ended up dead behind my store." Tricia turned back to Pixie. "Tell me, how did this poor woman stay … fresh?"
"She had a membership at the gym in Milford. You can do most of your business there. Of course, she also had a bucket in her car for—"
Baker cleared his throat. "When was the last time you saw the deceased?"
"Obviously less than an hour ago."
"I mean alive," Baker said flatly.
"See or talk to?" Pixie asked.
"Both."
Pixie looked thoughtful. "Lately I've seen her walking around the village during the day. She'd wave to me from the sidewalk and I'd wave back. Talk to? Maybe a month or so ago."
"And exactly where was that?"
Pixie's eyes narrowed, and when she spoke next, her voice was flat. "The grocery store in Milford. It was in the produce section. In front of the heads of lettuce."
"Pixie," Tricia warned.
Pixie blinked innocently—that is until she caught sight of Baker's annoyed expression and lowered her gaze.
"I wonder," Tricia began, "if Ms. Morris's death might have anything to do with the attempted break-in of my store over the weekend."
Baker turned his ire on her. "No."
"How can you say that?"
"Just because you read a lot of mysteries—"
"And police procedurals," Tricia broke in.
"—doesn't mean you know what you're talking about when it comes to real crime."
Tricia crossed her arms across her chest. When it came to solving crimes, so far her record was unblemished. Still, she refrained from pointing that out. Since she'd ended her relationship with the chief several years before, the two of them hadn't exactly been friends. Oh, he could be friendly—if he thought she had information he might need—but those times seemed to be coming with less frequency.
"How soon do you think it will be before the medical examiner comes to remove the body?" Tricia asked.
"It depends on how busy she is and what other cases her office is handling."
Tricia sighed. Bad as she felt for poor Susan Morris, the idea of her body further decaying from the heat of the day in the grimy old dumpster was going to be unpleasant for everyone—including the poor officers who were assigned to the scene—although, looking out the back door she noted that two of them now wore masks. They'd come prepared and had no doubt dabbed a little Vicks VapoRub on them to help cover the odor.
"Since the crime scene isn't technically in my store, can we continue doing business?"
"That's rather cold of you, isn't it, Tricia?" Baker asked, his eyes narrowing.
Tricia sighed. "I didn't know the woman. I've been away for two weeks and I'm jetlagged. I haven't had a decent meal in over twenty hours. I'd like nothing more than to—" Tricia's ringtone sounded. She retrieved her phone from her slacks pocket and checked the number. Angelica. She ignored it. "You haven't answered my question, Chief."
Baker frowned. "I suppose so. But keep this back door shut and locked. I don't want any gawkers interfering with our investigation—and that includes the two of you," he said none too kindly.
Tricia's phone pinged. A text message from Angelica.
What's going on behind your store?
Tricia ignored it. "Thank you." She gestured toward the back exit and the chief left the building. Tricia closed and locked the door, noting that there were several flies making circuits around the store. Mr. Everett was at the ready with a fly swatter and began to chase after them, with Miss Marple joining in the game and following him around the shop.
"I guess it's a good thing business has been slow today," Pixie said at last.
Tricia nodded.
Pixie sighed. "Poor Susan. She could never seem to catch a break."
"Did she have any family?"
Pixie nodded. "A daughter."
"And she let her mother live in her car?" Tricia asked, aghast.
Pixie shrugged. "Maybe she didn't know. And not everybody cares about their family like you and Angelica do—especially letting people like me and Mr. E into your lives."
That was true. Tricia's own mother was a prime example.
"Speaking of Angelica, I've ignored a call and a text. I'd better get back to her before she comes charging ov—" But Tricia didn't get to finish the sentence because her sister actually did charge through the door. Perhaps charge wasn't the word; hobbled because of the crutches that supported her.
"Tricia! Why are you ignoring me?" she called, distraught.
"No 'Hello, welcome home'?" Then the sight of the crutches sank in and she saw Angelica's right foot encased in a bulky boot. "What happened to your foot?"
But Angelica didn't answer and tottered over to stand in front of her sister, dumped one of her crutches, threw her free arm around Tricia, and pulled her into an awkward hug. "Welcome home." She pulled back. "Now, what's going on? June texted me and said there were police cruisers behind your door, as well as crime tape. Don't tell me you've found yet another body?"
"I didn't."
Pixie waved a hand, looking sheepish. "Um, this time it was me."
---

Amazon | Barnes & Noble | Books A Million | Chapters/Indigo  Indiebound | Book Depository  (free shipping worldwide)
Kindle US | Nook | Kobo
Apple Books | Google Play
Click here for audio editions.