Murder On The Half Shelf

Sausage and Vegetable Strudel (Makes 2)
ten sheets phyllo pastry
3 tablespoons butter melted with 3 tablespoons olive oil
1 cup chopped red (or green) pepper
1 cup sliced mushrooms
1 cup mozzarella cheese
1 cup onion
1 pound bulk sausage, browned
1 egg
½ teaspoon oregano
sea salt and freshly ground pepper
Preheat oven to 375ºF (190ºC, Gas Mark 5) .
Mix the melted butter and olive oil. Brush one side of five of the phyllo pastry sheets with the mixture and stack them on top of each other.
Brown the sausage until no longer pink. Sauté the vegetables with the sausage until the onions are clear, but not browned. Drain fat and discard. Add oregano, and salt and pepper to taste.
Take half the mixture and spread it over the surface of the stacked pastry, leaving a 2-inch margin all around. Sprinkle with half the cheese. Fold the short edges in and roll up from the long side like a jelly roll. Brush the surface with beaten egg and place on a well-greased baking sheet. Repeat the process with the other half of the ingredients to make a second strudel.
Bake 30-40 minutes or until golden brown and crisp. Let stand for a few minutes before slicing.
Serves 4-6
---
Simply Crackers Candy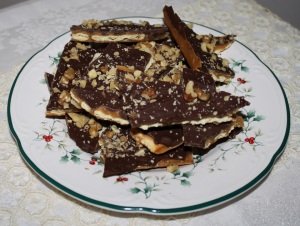 Ingredients
One "sleeve" of saltine crackers (about 35)
2 sticks butter (1 cup)
1 cup brown sugar
1 11.5 ounce package of chocolate chips*
¾ cups chopped walnuts* (optional)
Line a baking tray with foil and cover with saltine crackers. Boil butter and brown sugar for 3 minutes until frothy. Pour over the crackers.
Bake at 400° for 5 minutes. The butter/sugar mixture will bubble. Remove from the oven and sprinkle with chocolate chips. Let set for five minutes. Spread chocolate with spatula, and sprinkle with nuts. (Gently press the nuts into the chocolate.) Refrigerate at least 1 hour; break into pieces. (Refrigerate the leftovers . . . if there are any.)
*I use milk chocolate chips, but you can vary the recipe with semi-sweet chocolate and even peanut butter-flavored chips.
Crepes Flambé a L'Orange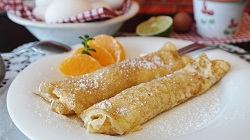 Ingredients
1/4 teaspoon salt
2 tablespoons melted butter
3 eggs
2 cups milk
2 tablespoons sugar
1/2 teaspoon vanilla extract
1/2 cup orange marmalade
1/2 cup water
1/2 cup Grand Marnier (or any orange liquor)
1 medium orange, cut into thin slices
2 teaspoons sugar
Put the sifted flour in a large bowl and make a well at the center. Place the eggs on the center, then beat and mix with the flour. Slowly add the milk. Mix very well. Add the butter, salt, vanilla and sugar. Mix until well blended. Batter will be thin. Set aside and let it rest for half an hour.
Cook the crepes like pancakes in a flat non-stick pan. Pour 1/4 cup of the batter into the pan at a time. Allow each crepe to cook for about 1-2 minutes on one side, then use a non-stick spatula to flip the crepe. When the crepes are cooked, roll them into tubes and transfer to a serving dish.
In a small saucepan, mix together the water, sugar, and marmalade over low heat. Simmer and reduce, until you have a thin syrup.
Drizzle the crepes with syrup. Garnish with orange slices.
In another sauce pan, bring the orange liquor to a quick boil, then light (using a match or butane lighter) to make a flambé. Carefully pour over the crepes while the flames are still active.
Serves 4-6
---
Thumbprint Cookies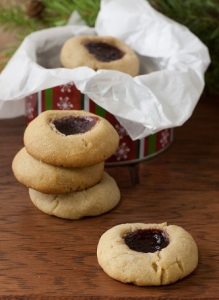 Ingredients
1/2 cup butter, softened
1/4 cup packed brown sugar
1 egg
1/2 teaspoon vanilla extract (almond extract tastes good, too)
1 cup all-purpose flour
1/4 cup finely chopped walnuts (optional)
2/3 cup any flavor fruit jam (Mr. Everett likes raspberry!)
1/4 teaspoon salt
Preheat oven to 300ºF (150ºC, Gas Mark 2). Grease foil-lined baking trays.
Separate the egg, reserving the egg white. Cream the butter, sugar, and egg yolk. Add the vanilla, flour, and salt, mixing well. Shape the dough into one-inch balls. Roll them in the egg white, and then in the walnuts. Place on baking trays about 2 inches apart. Bake for 5 minutes.
Remove cookies from oven. With thumb, dent each cookie. Put jelly or preserves in each thumbprint. Bake for another 8 minutes.
Make 24 cookies.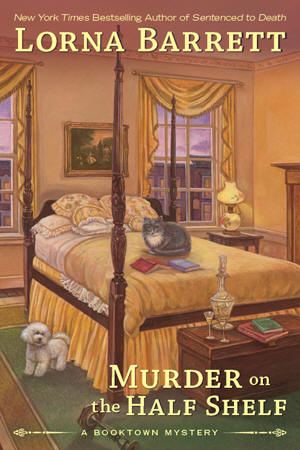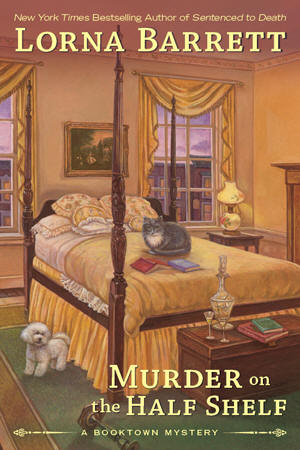 BUY THE BOOK
Amazon ~ Barnes & Noble ~ Chapters/Indigo ~ Books A Million
Kindle US ~ Kindle Worldwide ~ Nook ~ Kobo ~ iBooks

---
WANT MORE RECIPES?
Lorna's alter-ego, Lorraine Bartlett, has written two cookbooks: Recipes to Die For (A Victoria Square Cookbook), featuring the characters and their favorite foods and drinks from the Victoria Square Mysteries, and The Best From Swans Nest, highlighting character Kathy Grant's B&B Swans Nest Inn.
Lorna/Lorraine posts every regularly on the Cozy Chicks Facebook Group Page. The (collective) Cozy Chicks have published three cookbooks, The Cozy Chicks Kitchen, Tea Time With The Cozy Chicks, and (a free download) The Cozy Chicks Picnic. Click this link for more information on these terrific cookbooks, containing recipes from the Chicks' and their cozy mystery characters.