Turkey Curry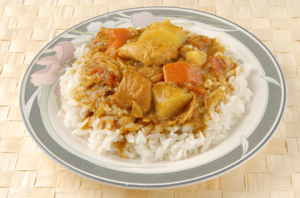 Ingredients
2 cups milk
2 chicken bouillon cubes
2 cups diced peeled apples
1 rib celery, chopped
1 cup chopped onion
1/4 cup vegetable oil
2 tablespoons all-purpose flour
2 teaspoons curry powder *
1/2 teaspoon salt
1/4 teaspoon pepper
1 tablespoon lemon juice
4 cups diced cooked turkey (or chicken)
Hot cooked rice
2 hard boiled eggs, diced (optional)
½ cup roasted peanuts (optional)
Minced cilantro (optional)
Directions
In a small saucepan, heat the milk and bouillon, stirring until bouillon is dissolved. Set aside.
In a large saucepan, sauté the apples, onion and celery in oil until tender. Stir in the flour, curry powder, salt and pepper until blended. Gradually add the milk mixture and lemon juice. Bring to a boil; cook and stir for 2 minutes or until thickened. Addthe  turkey and heat through. Serve over rice. Garnish with chopped egg, peanuts, and cilantro.
Serves 4.
*If you're like me and prefer your curry hotter, use up to 2 tablespoons curry paste.
Pasta with Sun-dried Tomatoes and Artichokes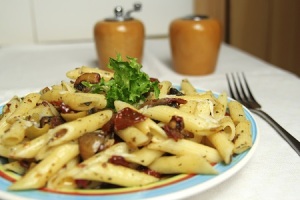 Ingredients
Approx 6 oz. penne pasta (uncooked)
2 hot Italian sausage links
1 can artichoke hearts (approx. 14 0z.), drained
1 jar sun-dried tomatoes packed in olive oil (approx. 8.5 oz.), reserve oil
8 ounces sliced mushrooms
about 3 tablespoons chopped scallions
6 cloves garlic, peeled and chopped (we like a LOT of garlic)
Directions
Cook pasta until al dente.  Partially cook sausage links, and then cut into coins.
Pour half the olive oil into the fry pan and sauté the mushrooms and garlic. Add the sausage coins and cook through. Add the sun-dried tomatoes and artichoke hearts to warm through. Add the pasta and mix thoroughly. Add the remaining olive oil to coat.
Serve with crusty Italian bread.
Serves 2.
---
WANT MORE RECIPES?
Lorna's alter-ego, Lorraine Bartlett, has written two cookbooks: Recipes to Die For (A Victoria Square Cookbook), featuring the characters and their favorite foods and drinks from the Victoria Square Mysteries, and The Best From Swans Nest, highlighting character Kathy Grant's B&B Swans Nest Inn.
Lorna/Lorraine posts every regularly on the Cozy Chicks Facebook Group Page. The (collective) Cozy Chicks have published three cookbooks, The Cozy Chicks Kitchen, Tea Time With The Cozy Chicks, and (a free download) The Cozy Chicks Picnic. Click this link for more information on these terrific cookbooks, containing recipes from the Chicks' and their cozy mystery characters.