A JUST CLAUSE
COMING JUNE 13, 2017
Available from
AMAZON | BARNES & NOBLE | BOOKS A MILLION | CHAPTERS
BOOK DEPOSITORY
KINDLE US | KINDLE WORLDWIDE | iBOOKS | KOBO | NOOK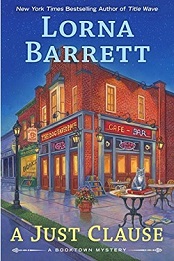 Tricia Miles, mystery bookstore owner and amateur sleuth, is in for a surprise when her ne'er-do-well father, John, comes to town—and promptly becomes a prime suspect in the murder of a woman with her own scandalous past. Even Tricia's faith in the old man is shaken when the Stoneham police break the news that her father is a known con man who has done jail time.
But what about bestselling thriller author Steven Richardson? Is it a coincidence that he arrived for a book signing just before the crime or that the victim was found with a signed copy of his latest bestseller?
From merlot to murder, Tricia is determined to clear the family name before another body shows up and ruins Stoneham's first—and highly anticipated—wine and jazz festival.
---

Coming soon!
---

Baker looked decidedly unhappy. He opened the book to the title page once more. Richardson had signed the book, but only with his name—it hadn't been personalized. "At these signings," he began, "doesn't the author usually write more than just their name?"
Tricia shrugged. "It depends on the author. Many times customers will buy a book and read it, then give it as a gift. Also, when it comes to the secondary market, a personalized book isn't worth as much as one with only a signature. These books are first editions. They're always worth more than those from additional print runs."
"If you say so."
Tricia bristled. "If you don't want to know the facts about publishing, don't ask."
"I didn't say that at all."
"Your tone was dismissive."
Baker opened his mouth to reply, then seemed to think better of it. "Never mind."
"Chief," Angelica said, her own tone mirroring Tricia's pique, "when can we leave?"
"When I'm satisfied you've told me everything I need to know."
Angelica's gaze hardened. "We walked up the street, saw the book, and then found Carol. There's not much more to tell."
"I'll be the one to determine that," he said, then slammed the book shut and stepped away from the patrol car.
Angelica stuck out her tongue at his back.
"Oh, Ange," Tricia chided.
"He's punishing us."
"What for?"
"Because you dumped him."
"I didn't dump him," Tricia said emphatically. "I chose to no longer go out with someone who wasn't ever likely to make a commitment."
"And now it seems you feel the same way."
"I do not."
"Then why are you so prickly when it comes to dating Steven Richardson?"
"I'm not prickly. I am going to lunch with him tomorrow, although as far as I'm concerned it's definitely not a date."
"Well what would you call it, then?"
"Lunch!"
"You're going to lunch with him?" Baker asked.
When had he returned? Had he been eavesdropping?
"Yes, tomorrow. I'm assuming you'll want to speak with him. He's staying at the Sheer Comfort Inn, at least for tonight. He said he was going there straight after the signing. He said he had other business in the village tomorrow morning, too—talking to Russ Smith." The owner and editor of the Stoneham Weekly News.
"Thanks. I'll be sure to track him down."
"And now can we leave?" Angelica asked, sounding just a little desperate.
"Yes, you can go. Although I may have more questions for you at a later time."
"You know where to find us," Tricia said, and eased her legs out of the backseat. Baker gave her a hand to get out, but then turned away, apparently uninterested in helping Angelica. Tricia opened her umbrella and then stepped forward to give her sister a hand. Baker's indiscretion had not gone unnoticed.
"There's one cop who won't be getting a donation in his name to the policeman's benevolence fund," Angelica groused as she tottered to stand on her stilettos.
---
AMAZON | BARNES & NOBLE | BOOKS A MILLION | CHAPTERS
BOOK DEPOSITORY
KINDLE US | KINDLE WORLDWIDE | iBOOKS | KOBO | NOOK