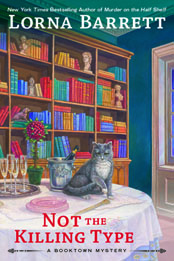 Booktown #7
Not The Killing Type:  available in paperback July 1, 2014
It's November in Stoneham, New Hampshire, and that means it's time for the Chamber of Commerce elections. The race is already a bit heated, as the longstanding Chamber president is being challenged by a former lover—Tricia's own sister Angelica. Then local small business owner Stan Berry throws his hat in ring.
Unfortunately, it's not there for long when he's found murdered in the Brookview Inn. The murder weapon is a brass letter opener belonging to the inn's receptionist. Tricia knows there's no way the receptionist is a killer. And when Angelica asks Tricia to help clear her name and win the election, she sees little choice except to start snooping.
She soon uncovers a ballot box full of lies and betrayals, and a chamber full of people who had grudges against the victim. But were they serious enough to lead to murder? And who truly had something to gain? Tricia will have to do some serious sleuthing before she pulls the lever on a killer.
Stoneham, New Hampshire, is a haven to bookstores, including Tricia's own mystery shop, Haven't Got a Clue, but is sadly lacking in bed and breakfasts. Pippa and Jon Comfort's Sheer Comfort Inn opens its doors to the public in a week and the couple has offered some locals a free night as a trial run.
But what should have been a pleasant overnight stay for Tricia becomes a nightmare when she makes two startling discoveries: Pippa's murdered body in the backyard, and the fact that her husband Jon is actually Harry Tyler, a man Tricia loved—and believed dead—for nearly twenty years.
Now Harry is the prime suspect, but Tricia doesn't believe him capable of murder, regardless of her own feelings toward him. And even though Harry's led a life of lies, Tricia's learning that Pippa had her share of secrets that some people may have not wanted revealed…
For more information, check out the Murder on the Half Shelf page.
SENTENCED TO DEATH, the 5th Booktown Mystery hit the New York Times Bestsellers List at #17 — the highest yet!  Thank you to everyone who bought the book and got it there.
For more information, check out the Sentenced to Death page.
Lorna has been signed to write books 7, 8 and 9 in the Booktown Mystery series.  Check back for news on titles and publication dates.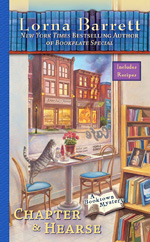 CHAPTER & HEARSE
debuted on the New York Times Bestsellers list for mass market paperbacks at #19 and stayed on the list for three weeks.  Meanwhile, it was in the top ten of the Barnes & Noble mass market mystery list for seven weeks!
For more information, check out the Chapter & Hearse page.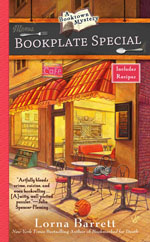 AGATHA NOMINEE
BOOKPLATE SPECIAL debuted on the New York Times Bestsellers in-print list for mass market paperbacks at #20.  It also garnered an Agatha Nomination for Best Novel of 2009.
Read an excerpt of Bookplate Special.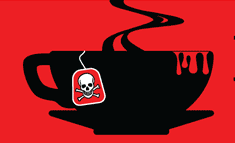 BOOKMARKED FOR DEATH made the New York Times Bestsellers List for mass market paperbacks at #35 and #31! It also debuted on the Indiebound Bestsellers list at #18.
Award-winning author Julia Spencer-Fleming wrote a wonderful blurb. You can find it and more details about the book if you check out the Bookmarked page.
And don't miss the book trailer for Bookmarked for Death up on Youtube.
Bookmarked For Death is also available in a large print edition.
MURDER IS BINDING was #4 on the Independent Mystery Booksellers Associations bestsellers list for mass market paperbacks in 2008.  It has now gone into its eighth print run!
You can find it at your favorite local bookstore, or order the book now from your favorite online bookseller!
THE BOOKTOWN MYSTERIES ON AUDIO!
The first five Booktown Mysteries are available for audio as MP3
downloads and feature wonderful performances by Cassandra Campbell
Karen White narrates Books 6, 7 and 8
You can get them at:
Amazon
Audible.com
Barnes & Noble
Penguin Audio
Lorna also writes the New York Times bestselling Victoria Square mysteries as Lorraine Bartlett. The first two Victoria Square Mystery and its companion cookbook are now available.  Check back soon for more information or visit Lorraine's web site.
Here's a teaser:


Recipes To Die For: A Victoria Square Cookbook
Katie Bonner and the rest of the locals from Victoria Square invite you into their kitchens to share tantalizing recipes and intimate stories about food, family, and life. So tie on your apron and sharpen your knives, because Recipes To Die For is chock full of culinary treasures such as Andy Rust's Cinnamon Rolls, Vance Ingram's Barbequed Ribs, and Sweet Sue's Toffee Squares. And you don't want to miss Aunt Lizzie's Cream Scones. They're to die for!
A Crafty Killing: Young widow Katie Bonner discovers the body of Ezra Hilton, who ran the local artisan cooperative like his own fiefdom. Katie has little reason to mourn Ezra, who convinced her late husband to invest in the Artisans' Alley before he was killed. Ezra's will makes Katie the controlling partner in the enterprise–much to the chagrin of his nephew, who comes to town hell-bent on collecting money as quickly as possible…and barely arrives before one of the vendors also ends up dead. The entire co-op is in a disgruntled uproar, and it seems like the detective in charge of the investigation does everything except investigate the murder. Everyone from the village's lawyer to the quilt shop owner had motive to want Ezra dead, and it's up to Katie to find out who before more of her vendors die.
#2 in the Victoria Square Mysteries:
The Walled Flower

If Katie Bonner's late husband hadn't invested all their savings in the crafts fair Artisans Alley, the Webster mansion could have been hers to remodel into a bed-and-breakfast. Instead that dream belongs to another young couple. But that dream becomes a nightmare when a skeleton is discovered sealed in the walls of the mansion. The bones belong to Helen Winston, who went missing twenty-two years ago. Heather's aunt, a jewelry vendor at Artisans Alley, asks Kate for help finding her niece's murderer. The case may be cold, but the killer is very much alive-and ready to go to any lengths to keep past secrets buried…
#3 in the Victoria Square Mysteries:

One Hot Murder

Katie Bonner, the reluctant manager of Artisans Alley in the quaint shopping district of Victoria Square, is no stranger to ambivalence. Things have been going hot and heavy with pizza maker Andy Rust—so much so that Katie has
moved in over his pizza parlor. But now that summer's ushered in a heat wave, an apartment above pizza ovens without an air conditioner is making Katie hot and bothered.
At the height of the heat wave, a tragic fire strikes Victoria Square. Wood U, a small store selling wooden gifts and small furniture, is destroyed. But the fire may just be a smoke screen—for murder. A body is found among the charred wreckage, and the victim didn't die from smoke inhalation. He was shot. Now—despite making Detective Ray Davenport hot under the collar—Katie is determined to smoke out a coldhearted killer…
You can also order the books from your favorite local independent bookseller!
Or from
The Independent
Mystery Booksellers Association
Read an excerpt of Murder Is Binding here.