Coming August 13, 2019
A KILLER EDITION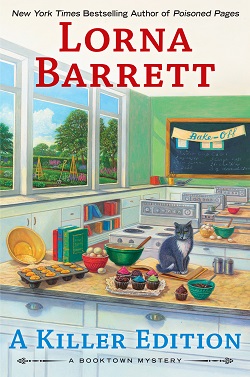 Murder's in the mix for mystery bookstore owner and amateur sleuth Tricia Miles, in the latest entry to Lorna Barret's New York Times bestselling Booktown series.
With her assistant, Pixie, picking up more responsibility around the shop, Tricia Miles suddenly has a lot more time on her hands. Tricia decides to join the local animal-rescue board and enter the Great Stoneham Bake-Off, but neither pans out as smoothly as she'd hoped.
Balancing a bake-off that's heating up with a frosty reception from the board, Tricia stops by Joyce Whitman's romance bookstore looking for a book to get her fired up. She stumbles on something hot, but it's an argument between Joyce and her neighbor Vera Osborn instead of a steamy read. When Vera turns up dead in Joyce's garden hours later, Tricia has to wonder—could Joyce be the killer? Or is the culprit still lurking in town?
One thing is for sure, someone in Stoneham is stirring up something more sinister than sweet. Tricia is determined to win the cutthroat cooking contest, but first she will have to make sure no one else is in danger of getting burned….
Available from
Amazon | Barnes & Noble | Books A Million | Chapters/Indigo | Book Depository
Kindle US | Kindle Worldwide | Nook | Kobo | Apple Books
Coming to Audio, too!
Audible | Amazon | iTunes

"Tricia once again turns amateur sleuth. What at first appears to be a matter of tension between Vera Olson and a neighbor leads Tricia to a more serious matter that involves pure greed and would anger a lot of people. Appealing characters and the picture of small-town life. Scrumptious cupcake recipes round out the volume. Cozy fans will be pleased."
–Publishers Weekly
"With the intertwined threads of cooking and animal rescue, this cozy will appear to fans of Joanne Fluke (for the baking) and Linda O. Johnston (for the pets).
–Booklist
---
WATCH THE BOOK TRAILER!
---
Coming soon:  EXCERPT