COMING JULY 25, 2023
The murder of a local contractor may be the final nail in the coffin for Tricia Miles in the latest entry to Lorna Barrett's New York Times bestselling booktown mystery series.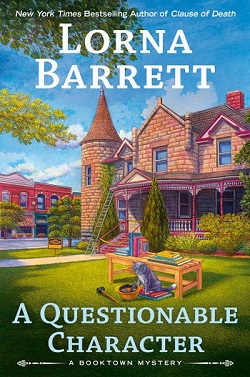 Contractor Jim Stark is in great demand: he's overseeing a number of projects, including finishing the new brew pub, and gutting a stone mansion off Main Street destined to be the world headquarters for Nigela Ricita Asssociates.
Tricia Miles and her sister, Angelica, arrive at the mansion before their workday to check on the construction. They find the place unlocked and Stark's right-hand man, Sanjay Arya, dead—bludgeoned to death. The loss of the contractor's top man threatens all the projects in the works. Is Jim a suspect? But Stark also thinks his wife, who was very chummy with Sanjay, might have been cheating on him with the second-in-command, making him a likely suspect. But there are others who might have had reasons to see Sanjay dead, too.
Once again Tricia finds herself in the middle of a murder investigation, but can she find the killer before he or she has the chance to bring the hammer down?
HARDCOVER
Amazon | Barnes & Noble | Books A Million | Indiebound.org
Book Depository (free shipping worldwide)
E-BOOK
Kindle | Kindle Worldwide | Nook | Kobo | Apple Books | Google Play
Coming to Audio, too!
(Narrated by Cassandra Campbell)

Coming Soon!

Coming Soon!