NOT THE KILLING TYPE :  MURDER ON THE HALF SHELF
SENTENCED TO DEATH : CHAPTER & HEARSE
BOOKPLATE SPECIAL : BOOKMARKED FOR DEATH : MURDER IS BINDING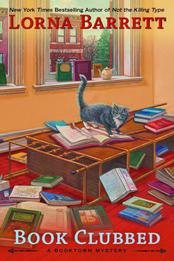 BOOK CLUBBED
Book 8 in the Booktown Mystery Series
Available July 1, 2014
Publisher: Berkley Prime Crime
Cranky Chamber of Commerce receptionist Betsy Dittmeyer is crushed by a fallen bookcase. Her last will and testament is packed with surprises and it's soon apparent that Betsy was hiding volumes of dark secrets behind her perpetual frown—and one of them just might have been a motive for murder. Tricia investigates to learn on who might have buried Betsy in a tomb of tomes.
Click here for excerpt, reviews, and purchase information.
---
NOT THE KILLING TYPE

Book Seven in the Booktown Mystery Series
Available July 2, 2013
Publisher:  Berkley Prime Crime
It's  time for the Chamber of Commerce elections. The race is already a bit heated, as longstanding Chamber president Bob Kelly is being challenged by a former lover—Tricia's own sister Angelica. Then local small business owner Stan Berry throws his hat in ring.
Unfortunately, it's not there for long when he's found murdered in the Brookview Inn. The murder weapon is a brass letter opener belonging to the inn's receptionist. Tricia knows there's no way the receptionist is a killer. And when Angelica asks Tricia to help clear her name and win the election, she sees little choice except to start snooping.
She soon uncovers a ballot box full of lies and betrayals, and a chamber full of people who had grudges against the victim. But were they serious enough to lead to murder? And who truly had something to gain? Tricia will have to do some serious sleuthing before she pulls the lever on a killer.
Click here for excerpt, review, and purchase information.
---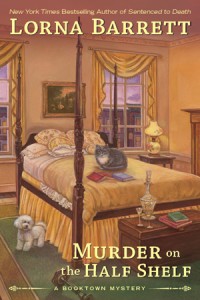 MURDER ON THE  HALF SHELF
Book Six in the Booktown Mysteries
ISBN-10:  0425247759
ISBN-13:  978-0425247754
Publisher: Berkley Prime Crime
Stoneham, New Hampshire, is a haven to bookstores, including Tricia's own mystery shop, Haven't Got a Clue, but is sadly lacking in bed and breakfasts. Pippa and Jon Comfort's Sheer Comfort Inn opens its doors to the public in a week and the couple has offered some locals a free night as a trial run.
But what should have been a pleasant overnight stay for Tricia becomes a nightmare when she makes two startling discoveries: Pippa's murdered body in the backyard, and the fact that her husband Jon is actually Harry Tyler, a man Tricia loved—and believed dead—for nearly twenty years.
Now Harry is the prime suspect, but Tricia doesn't believe him capable of murder, regardless of her own feelings toward him. And even though Harry's led a life of lies, Tricia's learning that Pippa had her share of secrets that some people may have not wanted revealed…
Click here for excerpt, reviews, and purchase information.
---
SENTENCED TO DEATH
Book Five in the Booktown Mysteries
ISBN-10: 0425241866
ISBN-13: 978-0425241868
Publisher: Berkley Prime Crime
As the owner of Stoneham, New Hampshire's mystery bookstore Haven't Got a Clue, Tricia Miles can figure out whodunit in the latest bestseller way before she gets to the last page. But these days, Tricia is using her sleuthing skills for much more than the books on her shelves . . .
It's Founders' Day in Stoneham and the whole village has turned out to celebrate in the square, including Tricia's friend and festivities organizer Deborah Black. As everyone watches Deborah give the opening speech, a small aircraft crashes into the village gazebo, killing both Deborah and the pilot. While the Sheriff's Department is convinced that it was an accident, Tricia has a feeling that there's more to the story. And when she reads between the lines of the case, what she finds is worse than the most sinister whodunit …
Click here for excerpt, reviews, and purchase information.
---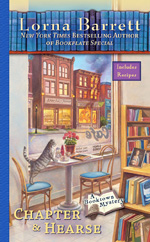 CHAPTER & HEARSE
Book Four in the Booktown Mystery Series
ISBN-10: 0425236013
ISBN-13: 978-0425236017
Publisher: Berkley (August 3, 2010)
According to the gossip around Stoneham, New Hampshire, Tricia Miles cannot put down a real murder mystery. After all, the owner of the mystery bookstore, Haven't Got a Clue, has been spending more time solving whodunits than reading them…
Tricia's sister, Angelica, considers herself to be the next celebrity chef. To celebrate her first cookbook, Angelica hosts a launch party, but sadly the only guest is an oversized cutout of herself. Worse than the lack of fans is a nearby gas explosion that injures her boyfriend, Bob Kelly, the head of the Chamber of Commerce.
Tricia's never been a fan of Bob, but when she reads that Bob is being tight-lipped about the "accident" and how it killed the owner of the town's history bookstore, it's time to take action. As the incriminating details emerge, Tricia gets wrapped up in a murder that proves to be as spine-tingling as the books that line her shelves…
Click here for excerpt, reviews and purchase information.
---
BOOKPLATE SPECIAL
Book Three in the Booktown Mystery Series
ISBN-10: 0425231194
ISBN-13: 978-0425231197
Publisher: Berkley (November 3, 2009)
Tricia Miles, owner of Haven't a Clue mystery bookstore, is still settling into Stoneham, New Hampshire, the kind of town where everybody knows your name—and where everyone's quick to lend a hand, even when murder is afoot . . .
The kinder folks of Stoneham might call Pammy Fredericks a free spirit. The less kind, a freeloading thief. Tricia has put up—and put up with—her uninvited college roommate for weeks. In return, Pammy, has stolen $100, among other things. But the day she's kicked out, Pammy's found dead in a dumpster, leaving loads of questions unanswered. Like what was she foraging for? Did her killer want it too? To piece the case together, Tricia will have to dive in head-first.…
Click here for excerpt, reviews and purchase information.
---
BOOKMARKED FOR DEATH
Book Two in the Booktown Mystery Series
ISBN-10: 0425226417
ISBN-13: 978-0425226414
Publisher: Berkley (February 3, 2009)
What do a stone book and a stabbed cake have to do with Zoë Carter's death?
Once a struggling town, Stoneham, New Hampshire is now enjoying a renaissance–thanks to booksellers like Tricia Miles, proprietor of Haven't Got a Clue. It's a great place to find a good mystery to read–or to solve ….
To celebrate her bookstore's anniversary, Tricia Miles hosts a book signing for bestselling author Zoë Carter. But the event takes a terrible turn when the author is found dead in the washroom. Before long, both police and reporters are demanding the real story. So far, the author's obnoxious assistant/niece is the only suspect. And with a sheriff who provides more obstacles than answers, Tricia will have to take matters into her own hands–and read between the lines to solve this mystery….
Click here for excerpt, reviews and purchase information.
See the book trailer on YouTube.
---
MURDER IS BINDING
Book One in the Booktown Mystery Series
ISBN-10: 0425219585
ISBN-13: 978-0425219584
Publisher: Berkley (April 1, 2008)
Stoneham, New Hampshire, was a dying town until community leaders invited booksellers to open shop. Now, its streets are lined with bookstores–and paved with murder…
When she moved to Stoneham, city-slicker Tricia Miles was met with friendly faces. And when she opened her mystery bookstore, she met with friendly competition. But when she finds Doris Gleason dead in her own cookbook store, killed by a carving knife, the atmosphere seems more cutthroat than cordial. Someone wanted to get their hands on the rare cookbook that Doris had recently purchased–and the locals think that someone is Tricia. To clear her name, Tricia will have to take a page out of one of her own mysteries–and hunt down someone who isn't killing by the book…
Click here for excerpt, reviews and purchase information.

---
Did you know I also write under two other names?
Check out my Amazon Bookstore.