"Barrett writes some of the best cozy mysteries set in contemporary times, many of them New York Times bestsellers."
–Bookmarks Magazine
"With a steady influx of tourists and stiff competition between booksellers, Barrett's "Booktown" becomes the perfect setting for murder. At seventeen books and counting, readers can return to Stoneham again and again."
— Ellery Adams, Crime Reads
(Listed in Reverse Order. Click on the title(s) for more information.)
A KILLER EDITION  |  POISONED PAGES
NOT THE KILLING TYPE :  MURDER ON THE HALF SHELF
SENTENCED TO DEATH : CHAPTER & HEARSE
---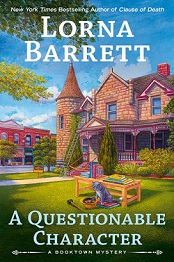 Contractor Jim Stark is in great demand: he's overseeing a number of projects, including finishing the new brew pub, and gutting a stone mansion off Main Street destined to be the world headquarters for Nigela Ricita Asssociates.
Tricia Miles and her sister, Angelica, arrive at the mansion before their workday to check on the construction. They find the place unlocked and Stark's right-hand man, Sanjay Arya, dead—bludgeoned to death. The loss of the contractor's top man threatens all the projects in the works. Is Jim a suspect? But Stark also thinks his wife, who was very chummy with Sanjay, might have been cheating on him with the second-in-command, making him a likely suspect. But there are others who might have had reasons to see Sanjay dead, too.
Once again Tricia finds herself in the middle of a murder investigation, but can she find the killer before he or she has the chance to bring the hammer down?
HARDCOVER
Amazon | Barnes & Noble | Books A Million | Indiebound.org | Chapters/Indigo
E-BOOK
Kindle | Kindle Worldwide | Nook | Kobo | Apple Books | Google Play
Coming to Audio, too!
(Narrated by Cassandra Campbell)
---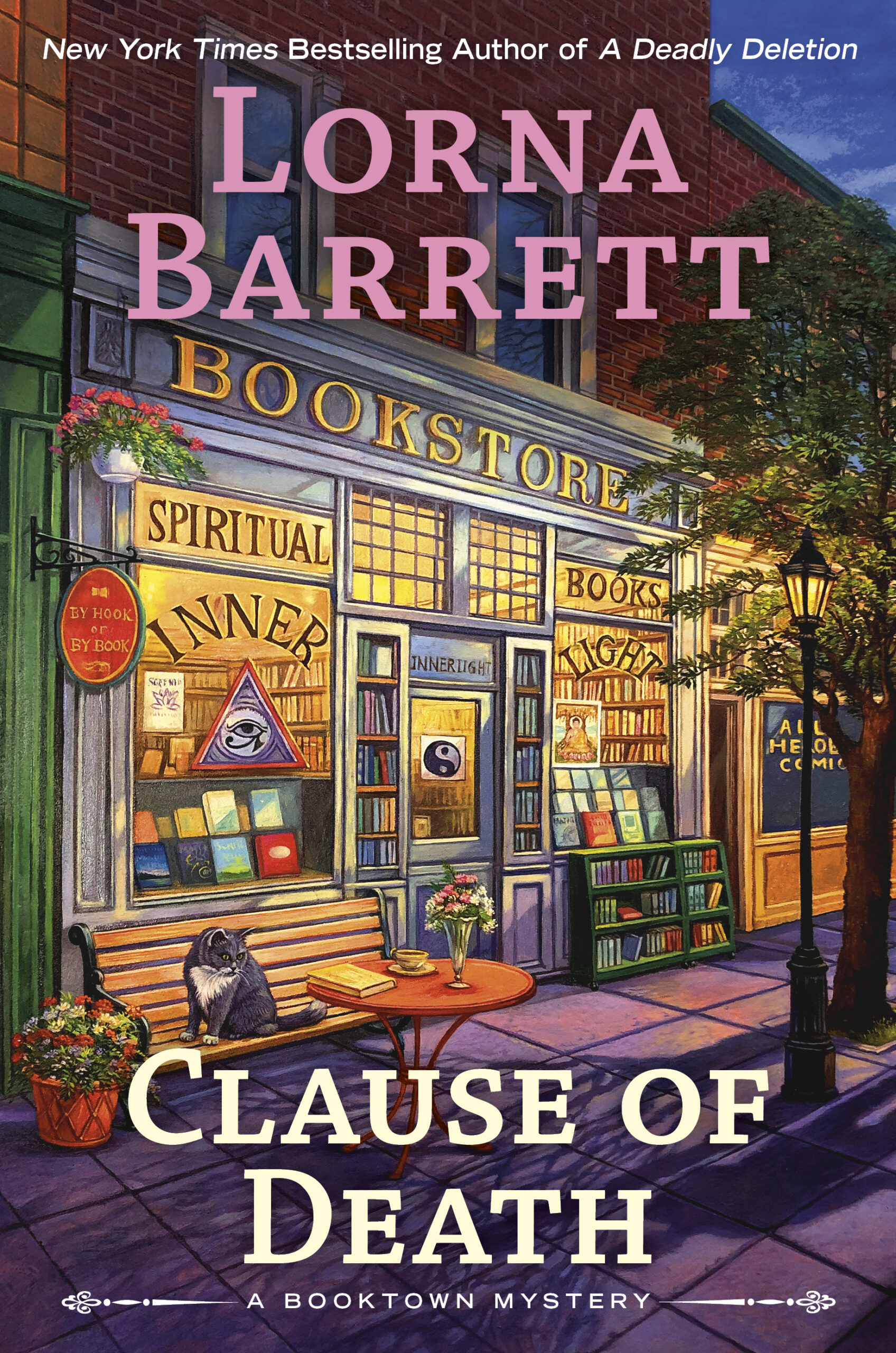 Tricia Miles and her sister, Angelica, are the co-presidents of the Stoneham Chamber of Commerce. Things are changing in the booktown, and some merchants would say not for the better. They grumble that too many non-book-related stores are moving into the village, taking up the most visible storefronts on Main Street, diluting the "Booktown" moniker. Of course, the members with other businesses, like the latest, The Bee's Knees, are fine with other businesses moving in. No matter what side of the argument they're on, all the business owners agree on one thing: Tricia and Angelica are to blame.
Still, it's a pretty typical day in the life of a small-town Chamber of Commerce until one of the disgruntled bookstore owners is killed—Eli Meier from The Inner Light Bookstore, the most vocal of the Chamber complainers. He sold religious and other spiritual books, but also stocked books on wild conspiracy theories and sold incense, crystals, etc. Eli had never been a member of the Chamber until Angelica recently convinced him to join. He hit on her and she, having good taste, turned him down. He hounded (but not stalked) her, and some might think that was a motive for murder.
Stoneham's new police chief is an old friend of Tricia's, but that doesn't mean he's going to go easy on her sister. One might even say that he's going to throw the book at her.
HARDCOVER
Amazon | Barnes & Noble | Books A Million | Chapters/Indigo
Book Depository (free shipping worldwide) | Indiebound | Bookshop.org
     E-BOOK
     Kindle US | Kindle Worldwide | Nook | Apple Books | Kobo | Google Play
---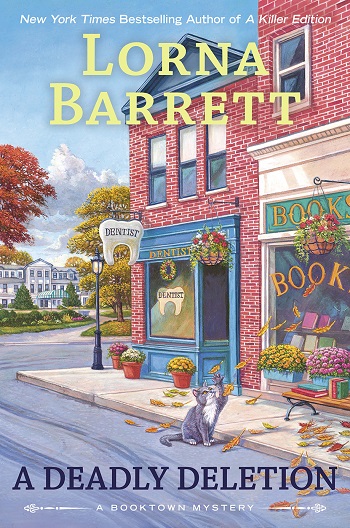 Tricia Miles has just received a second marriage proposal within fifteen minutes. The first was from her friend with benefits, Marshall Cambridge, and the second from her ex-lover, police chief Grant Baker. Tricia's got some serious thinking to do.
She's still weighing her options when she hears the sound of an engine roaring down Main Street. It's a big white pickup truck that aims for and hits Marshall as he's walking back to his apartment. Tragically, he's killed, leaving Tricia feeling bereft and guilty. She retreats to her sister, Angelica's, apartment to wait for Baker to update her on what happened. While there, Tricia takes Angelica's dog out for a comfort call behind the building, and the same white pickup roars up the alley and just misses hitting Tricia.
Still shaken by that news, Tricia returns to Haven't Got a Clue and is met by federal marshal Kirby, who tells her that Marshall had been in the Federal Witness Protection Program. Everything Marshall told Tricia was a lie–in particular, that he was a widower. Was his death an act of revenge?
Tricia's on the hunt for a killer, and it seems like she might be next on the list.
Hardcover:  Amazon | Barnes & Noble | Books A Million | Chapters/Indigo
Indie Bound | Book Depository (free shipping worldwide)
Ebook:  Kindle US | Kindle Worldwide | Nook | Kobo | Apple Books | Google Play
---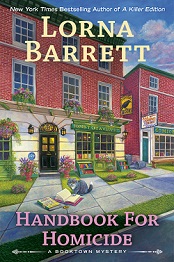 HANDBOOK FOR HOMICIDE
Booktown Mystery #14
Publisher: Berkley
When Tricia's assistant manager, Pixie, finds homeless vet Susan Morris's body behind Haven't Got A Clue, Pixie's checkered past makes her the prime suspect. Tricia sets out to clear Pixie's name armed with only an anchor insignia earring found at the scene of the crime.
As Tricia digs deeper she discovers Susan was involved in a scandal right before retiring from the Navy—but since nobody in the village knows Susan, even Tricia's one lead is in danger of drying up. With family drama brewing in the background and all of Stoneham convinced her manager is a murderer, Tricia knows she has to get to the bottom of the case soon before Pixie's future is sunk.
Click here for excerpt, reviews, and purchase information.
---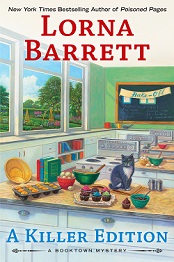 A KILLER EDITION
Booktown Mystery #13
Publisher: Berkley
With her assistant, Pixie, picking up more responsibility around the shop, Tricia Miles suddenly has a lot more time on her hands. Tricia decides to join the local animal-rescue board and enter the Great Stoneham Bake-Off, but neither pans out as smoothly as she'd hoped.
Balancing a bake-off that's heating up with a frosty reception from the board, Tricia stops by Joyce Whitman's romance bookstore looking for a book to get her fired up. She stumbles on something hot, but it's an argument between Joyce and her neighbor Vera Osborn instead of a steamy read. When Vera turns up dead in Joyce's garden hours later, Tricia has to wonder—could Joyce be the killer? Or is the culprit still lurking in town?
One thing is for sure, someone in Stoneham is stirring up something more sinister than sweet. Tricia is determined to win the cutthroat cooking contest, but first she will have to make sure no one else is in danger of getting burned….
Click here for excerpt, reviews, and purchase information.
---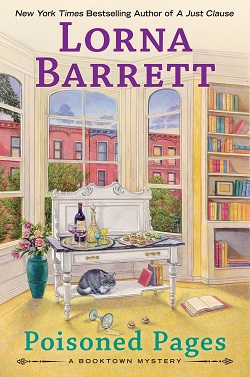 POISONED PAGES
Booktown Mystery #12
Publisher: Berkley
Tricia Miles, mystery bookstore owner and amateur sleuth, throws a housewarming cocktail party in her new apartment and has cooked all the food by herself–quite a feat for someone who previously couldn't boil water. Then one of her guests is poisoned and dies. Tricia's left to wonder if her cooking is to blame or if there's something much more sinister at play. Either way, Tricia's once again in hot water with her ex-lover, Chief Baker.
Meanwhile the charming town of Stoneham is being disrupted by a vandalism crime wave. It's the hot topic in the race for Chamber of Commerce president which sees Tricia pitted against two bitter rivals. With all that's going on can she find the killer before she's the next item on the menu?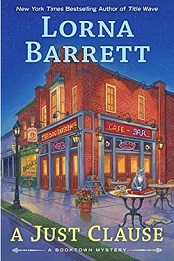 A JUST CLAUSE
Booktown Mystery #11
Publisher: Berkley
Tricia Miles, mystery bookstore owner and amateur sleuth, is in for a surprise when her ne'er-do-well father, John, comes to town—and promptly becomes a prime suspect in the murder of a woman with her own scandalous past. Even Tricia's faith in the old man is shaken when the Stoneham police break the news that her father is a known con man who has done jail time. From merlot to murder, Tricia is determined to clear the family name before another body shows up and ruins Stoneham's first—and highly anticipated—wine and jazz festival.
Click here for an excerpt, reviews, and purchase information!
---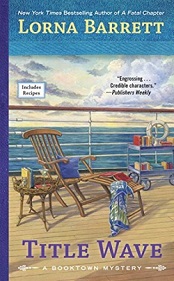 TITLE WAVE
Booktown Mystery #10
Publisher: Berkley
Tricia and Angelica leave Booktown behind for some much needed R&R. Naturally they choose a Mystery Lovers cruise, where they can ponder whodunnit in deck chairs while sipping colorful drinks and soaking up some rays. But the fun is cut short when a fellow passenger is murdered for real. Is the killer a famous mystery author, one of her fans, or a member of the ship's crew? As Tricia tries to find the killer before they reach port, she may be cruising for a bruising…
Click here for an excerpt, reviews, and purchase information!
---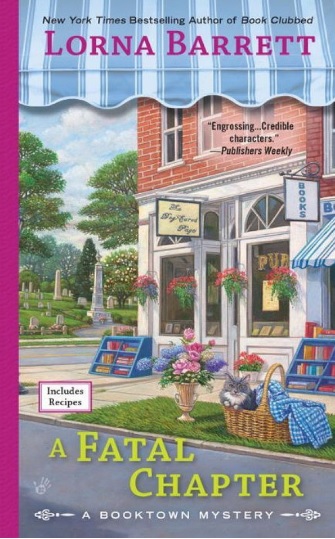 A FATAL CHAPTER
Booktown Mystery #9
Publisher:  Berkley Prime Crime
While out walking Sarge, Tricia is led by the agitated dog to a man lying in a gazebo.  Pete Renquist, president of the Stoneham Historical Society, appears to be suffering from cardiac arrest. When Pete later dies, the discovery of a suspicious bruise and a puncture mark on his arm suggests he may have been murdered.  Haunted by Pete's enigmatic last words to her, Tricia considers who had a motive to kill her friend. Did Pete take his flirting too far, only to have a jealous husband teach him a lesson? Or did he discover something in the town's historical records that his killer wanted kept secret? Tricia is determined to get to the bottom of things before someone else becomes history…
Click here for excerpt, reviews, and purchase information.
---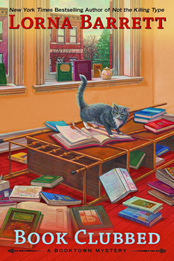 BOOK CLUBBED
Booktown Mystery #8
Publisher: Berkley Prime Crime
Cranky Chamber of Commerce receptionist Betsy Dittmeyer is crushed by a fallen bookcase. Her last will and testament is packed with surprises and it's soon apparent that Betsy was hiding volumes of dark secrets behind her perpetual frown—and one of them just might have been a motive for murder. Tricia investigates to learn on who might have buried Betsy in a tomb of tomes.
Click here for excerpt, reviews, and purchase information.
---
NOT THE KILLING TYPE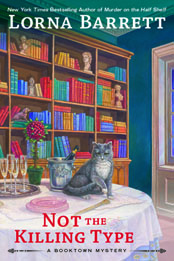 Booktown Mystery #7
Publisher: Berkley Prime Crime
It's  time for the Chamber of Commerce elections. The race is already a bit heated, as longstanding Chamber president Bob Kelly is being challenged by a former lover—Tricia's own sister Angelica. Then local small business owner Stan Berry throws his hat in ring. Unfortunately, it's not there for long when he's found murdered in the Brookview Inn. The murder weapon is a brass letter opener belonging to the inn's receptionist. Tricia knows there's no way the receptionist is a killer. And when Angelica asks Tricia to help clear her name and win the election, she sees little choice except to start snooping. She soon uncovers a ballot box full of lies and betrayals, and a chamber full of people who had grudges against the victim. But were they serious enough to lead to murder? And who truly had something to gain? Tricia will have to do some serious sleuthing before she pulls the lever on a killer. Click here for excerpt, review, and purchase information.
---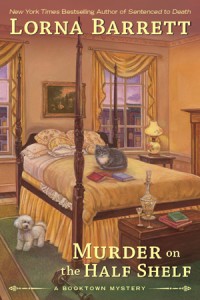 MURDER ON THE  HALF SHELF Booktown Mystery #6
Publisher: Berkley Prime Crime
Stoneham, New Hampshire, is a haven to bookstores, including Tricia's own mystery shop, Haven't Got a Clue, but is sadly lacking in bed and breakfasts. Pippa and Jon Comfort's Sheer Comfort Inn opens its doors to the public in a week and the couple has offered some locals a free night as a trial run. But what should have been a pleasant overnight stay for Tricia becomes a nightmare when she makes two startling discoveries: Pippa's murdered body in the backyard, and the fact that her husband Jon is actually Harry Tyler, a man Tricia loved—and believed dead—for nearly twenty years. Now Harry is the prime suspect, but Tricia doesn't believe him capable of murder, regardless of her own feelings toward him. And even though Harry's led a life of lies, Tricia's learning that Pippa had her share of secrets that some people may have not wanted revealed… Click here for excerpt, reviews, and purchase information.
---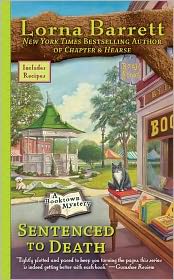 SENTENCED TO DEATH
Booktown Mystery #5
Publisher: Berkley Prime Crime
As the owner of Stoneham, New Hampshire's mystery bookstore Haven't Got a Clue, Tricia Miles can figure out whodunit in the latest bestseller way before she gets to the last page. But these days, Tricia is using her sleuthing skills for much more than the books on her shelves . . .
It's Founders' Day in Stoneham and the whole village has turned out to celebrate in the square, including Tricia's friend and festivities organizer Deborah Black. As everyone watches Deborah give the opening speech, a small aircraft crashes into the village gazebo, killing both Deborah and the pilot. While the Sheriff's Department is convinced that it was an accident, Tricia has a feeling that there's more to the story. And when she reads between the lines of the case, what she finds is worse than the most sinister whodunit …
  Click here for excerpt, reviews, and purchase information.
---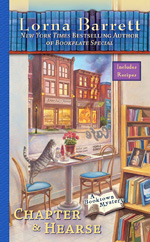 CHAPTER & HEARSE
Booktown Mystery #4
Publisher: Berkley Prime Crime
According to the gossip around Stoneham, New Hampshire, Tricia Miles cannot put down a real murder mystery. After all, the owner of the mystery bookstore, Haven't Got a Clue, has been spending more time solving whodunits than reading them… Tricia's sister, Angelica, considers herself to be the next celebrity chef. To celebrate her first cookbook, Angelica hosts a launch party, but sadly the only guest is an over-sized cutout of herself. Worse than the lack of fans is a nearby gas explosion that injures her boyfriend, Bob Kelly, the head of the Chamber of Commerce. Tricia's never been a fan of Bob, but when she reads that Bob is being tight-lipped about the "accident" and how it killed the owner of the town's history bookstore, it's time to take action. As the incriminating details emerge, Tricia gets wrapped up in a murder that proves to be as spine-tingling as the books that line her shelves…
Click here for excerpt, reviews and purchase information.
---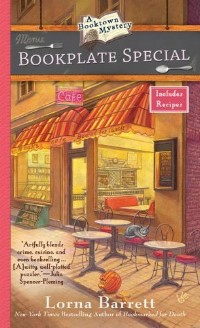 BOOKPLATE SPECIAL
Booktown Mystery #3
Publisher: Berkley Prime Crime
AGATHA NOMINEE for BEST NOVEL
Tricia Miles, owner of Haven't a Clue mystery bookstore, is still settling into Stoneham, New Hampshire, the kind of town where everybody knows your name—and where everyone's quick to lend a hand, even when murder is afoot . . . The kinder folks of Stoneham might call Pammy Fredericks a free spirit. The less kind, a freeloading thief. Tricia has put up—and put up with—her uninvited college roommate for weeks. In return, Pammy, has stolen $100, among other things. But the day she's kicked out, Pammy's found dead in a dumpster, leaving loads of questions unanswered. Like what was she foraging for? Did her killer want it too? To piece the case together, Tricia will have to dive in head-first.…
Click here for excerpt, reviews and purchase information.
---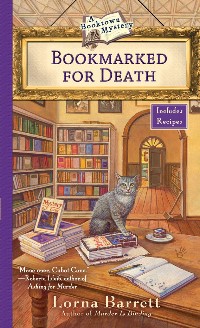 BOOKMARKED FOR DEATH
Booktown Mystery #2
Publisher: Berkley
What do a stone book and a stabbed cake have to do with Zoë Carter's death? Once a struggling town, Stoneham, New Hampshire is now enjoying a renaissance–thanks to booksellers like Tricia Miles, proprietor of Haven't Got a Clue. It's a great place to find a good mystery to read–or to solve …. To celebrate her bookstore's anniversary, Tricia Miles hosts a book signing for bestselling author Zoë Carter. But the event takes a terrible turn when the author is found dead in the washroom. Before long, both police and reporters are demanding the real story. So far, the author's obnoxious assistant/niece is the only suspect. And with a sheriff who provides more obstacles than answers, Tricia will have to take matters into her own hands–and read between the lines to solve this mystery….
Click here for excerpt, reviews and purchase information.
Cast of Characters Stoneham, New Hampshire
See the book trailer on YouTube.
---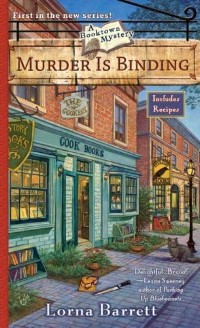 MURDER IS BINDING
Booktown Mystery #1
Publisher: Berkley
Stoneham, New Hampshire, was a dying town until community leaders invited booksellers to open shop. Now, its streets are lined with bookstores–and paved with murder… When she moved to Stoneham, city-slicker Tricia Miles was met with friendly faces. And when she opened her mystery bookstore, she met with friendly competition. But when she finds Doris Gleason dead in her own cookbook store, killed by a carving knife, the atmosphere seems more cutthroat than cordial. Someone wanted to get their hands on the rare cookbook that Doris had recently purchased–and the locals think that someone is Tricia. To clear her name, Tricia will have to take a page out of one of her own mysteries–and hunt down someone who isn't killing by the book…
Click here for excerpt, reviews and purchase information.
Cast of Characters Stoneham, New Hampshire
---
Did you know I also write under two other names?