Tricia's cat, Miss Marple, plays a major part in the Booktown Mysteries. Cats play a major part in my life as well.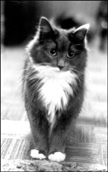 Miss Marple is based on my cat Cori-Belle. She was a lovely little lady with long gray hair, and the sweetest personality. She lived to the ripe old age of 20 and is still terribly missed.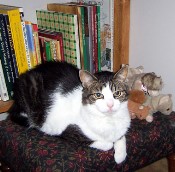 I currently have two cats. We lost our best girl, Betsy, in February of 2015 at the age of 19 and a half. She was our little princess. She preferred fresh catnip and and liked to play with her toys..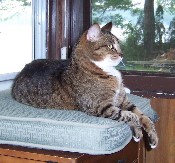 Bonnie was our beauty (and Betsy's sister). Doesn't she look regal sitting there on her cushion?
We lost our darling girl on 11-22-11.
(She was 15.)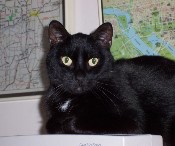 Chester is now our cat-in-charge.  He was a Christmas present to my husband (from me)! He's our dominate cat, although he's not exactly fearless. (He evaporates during thunderstorms.) He loves cat cookies and shrimp, and as a "wool eater," likes to hunt down dangerous dust clothes and rogue mittens and gloves.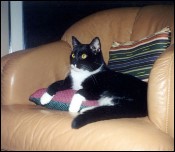 Fred is a gorgeous Tuxedo, and boy does he know it! He's spoiled rotten (and guess who spoils him?). Fred likes to think he's dominate cat–but Chester knows better.