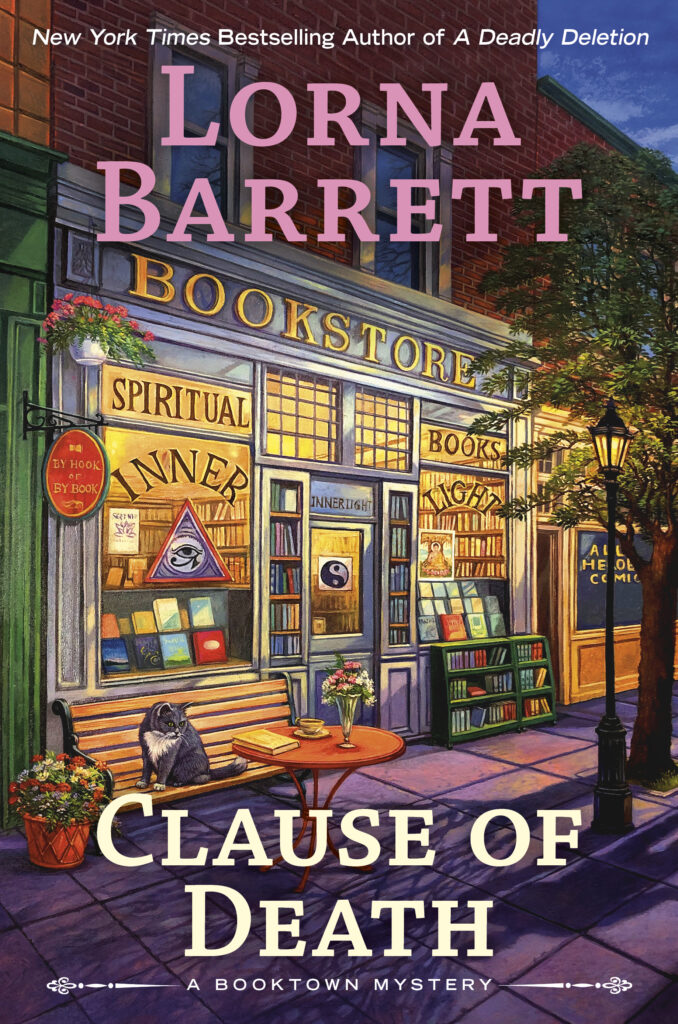 Tricia Miles and her sister, Angelica, are the co-presidents of the Stoneham Chamber of Commerce. Things are changing in the booktown, and some merchants would say not for the better. They grumble that too many non-book-related stores are moving into the village, taking up the most visible storefronts on Main Street, diluting the "Booktown" moniker. Of course, the members with other businesses, like the latest, The Bee's Knees, are fine with other businesses moving in. No matter what side of the argument they're on, all the business owners agree on one thing: Tricia and Angelica are to blame.
Still, it's a pretty typical day in the life of a small-town Chamber of Commerce until one of the disgruntled bookstore owners is killed—Eli Meier from The Inner Light Bookstore, the most vocal of the Chamber complainers. He sold religious and other spiritual books, but also stocked books on wild conspiracy theories and sold incense, crystals, etc. Eli had never been a member of the Chamber until Angelica recently convinced him to join. He hit on her and she, having good taste, turned him down. He hounded (but not stalked) her, and some might think that was a motive for murder.
Stoneham's new police chief is an old friend of Tricia's, but that doesn't mean he's going to go easy on her sister. One might even say that he's going to throw the book at her.
HARDCOVER
Amazon | Barnes & Noble | Books A Million | Chapters/Indigo
Book Depository (free shipping worldwide) | Indiebound | Bookshop.org
     E-BOOK
     Kindle US | Kindle Worldwide | Nook | Apple Books | Kobo | Google Play
---

"A bookseller's reputation as a jinx is enhanced by yet another murder.
"Tricia Miles, owner of Haven't Got A Clue bookstore, would enjoy life a lot more if only she didn't keep finding dead bodies. She and her sister, Angelica, are co-presidents of the Stoneham Chamber of Commerce, whose latest meeting goes awry when Eli Meier, a rude, paranoid conspiracy theorist, creates a fuss over plans for a craft brewery. Tricia's surprised when she runs into attractive Irishman Ian McDonald, a ship's security officer she'd aided in solving a shipboard murder, and astonished when he's named the new police chief over the objections of many in the department. Soon enough, the murder of the unpopular Eli gives Ian a chance to prove his worth. In the meantime, a homeless young man seems to be stalking Tricia's helper Pixie, and Mr. Everett, her other reliable helper, breaks his wrist. Gossip moves faster than the speed of sound in Stoneham, but Tricia finds it helpful when she investigates Eli's death. Though she finds Ian very attractive, she's been burned in several bad relationships, and even as he seeks information from her, he makes it clear that he's not pleased by her sleuthing. There are many townsfolk who might have killed Eli, but a surprising revelation about his past opens up a whole new field of investigation.
"Plenty of new, guilty-looking faces along with deep dives into the franchise characters' lives add up to a good read."
— Kirkus
"There is something so quaint and charming about a beautiful town revolving around bookstores that draws readers in. I love their sisterly bond and daily meetups for cocktails and supper to check in with one another. As a bonus, some of those recipes are included."
"CLAUSE OF DEATH is packed with intrigue and mystery, so much so that I found myself unable to put it down and read it in one sitting. This book can be read as a standalone, but I highly recommend catching up on the previous books as well."
–Fresh Fiction
"Ms. Barrett incorporates many familiar character updates with the introduction of new characters. The mystery is well constructed, while the overall story is complex. CLAUSE OF DEATH serves as a stepping stone for new relationships and character evolution while being a must-read in this established series.
–Fresh Fiction
---

ORDER YOUR COPY NOW!
HARDCOVER
Amazon | Barnes & Noble | Books A Million | Chapters/Indigo
Book Depository (free shipping worldwide) | Indiebound | Bookshop.org
     E-BOOK
     Kindle US | Kindle Worldwide | Nook | Apple Books | Kobo | Google Play