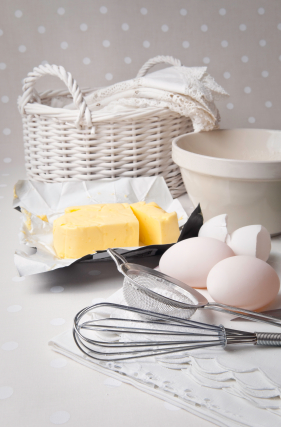 Readers of the Booktown Mysteries know that Angelica's life somehow always revolves around cooking and eating.  There's nothing she loves more than cooking for friends and family.  She cooks for pleasure, for entertainment, and as part of her livelihood. When she's upset, the kitchen is where Angelica heads to cook off whatever is bothering her.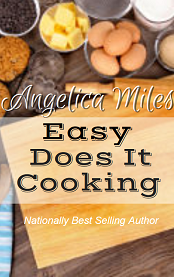 She's now a nationally best-selling cookbook author, with two wonderful books full of recipes to her credit.  The first, was Easy Does It Cooking. Although these tomes aren't available to readers, I thought it might be fun to visualize what the covers would look like and had fun putting this one together.  Will there ever be a book filled with Angelica's recipes for Booktown readers?  You never know.
Many readers have written to me and asked me to post Angelica's recipes on the web site.  Your wish is my command!  I'll be adding a recipe every week through 2015.   If there's one in particular you'd like to see, drop me a line at [email protected]
For more of my recipes, check out:
Recipes To Die For: A Victoria Square Cookbook
The Best of Swans Nest
by Lorna's Alter-Ego Lorraine Bartlett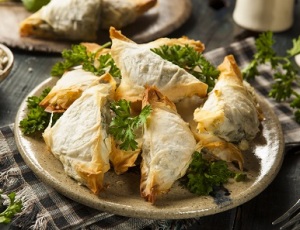 There's lots of good (and bad) news in Book Clubbed.  The happy news is that both Ginny Wilson-Barbero and Nikki Brimfield-Smith are expecting. Angelica makes wonderful appetizer of spanakopeta that she and Tricia munch on while sipping their martinis.  Yum-yum!
Ingredients
½ cup olive oil
2 large onions, chopped
2 (10-ounce) packages frozen chopped spinach, thawed, drained, and squeezed dry
2 tablespoons chopped fresh dill (or two teaspoons dried dill)
2 tablespoons all-purpose flour
2 (4-ounce) packages feta cheese, crumbled
4 eggs, lightly beaten
salt and pepper
1 (24-ounce) package phyllo dough
¾ pound butter, melted
Preheat the oven to 350°F. Heat the olive oil in a large saucepan over medium heat. Slowly cook and stir onions until softened (do not overcook). Mix in the spinach, dill, and flour. Cook for approximately 10 minutes, or until most of the moisture has been absorbed. Remove from the heat and mix in the cheese, eggs, salt and pepper. Lay the phyllo dough flat and cut into long strips (about 2" wide); brush with the melted butter. Place a small amount of spinach mixture at the bottom of each piece of dough. Fold the phyllo into triangles around the mixture. Place filled phyllo dough triangles on a large baking sheet. Brush with butter. Bake for 45 minutes to 1 hour, or until golden brown.
Yield: Varies
Check out all the recipes from Book Clubbed.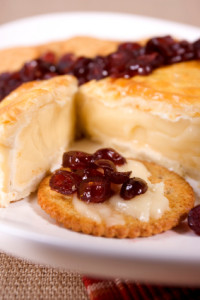 In Not The Killing Type, Tricia has the munchies, and Angelica is only to happy to feed her sister baked brie while they discuss the latest crime in Stoneham.
Baked Brie with Raspberry Preserves
½ (17-ounce) package frozen puff pastry, thawed
1 (8-ounce) round of Brie cheese
¼ cup raspberry preserves (or ¼ cup of your favorite preserves)
1/8 cup toasted almond slices (optional)
Preheat the oven to 425ºF. Lightly grease a baking sheet. Roll the puff pastry out slightly. Place the cheese round on top of the pastry (do not remove the rind). Place the preserves on top of Brie. Sprinkle the preserves with the almonds. Wrap the puff pastry up and around the Brie. Bake for 20 to 25 minutes, until the pastry is golden brown. Remove from the oven and let cool for 5 minutes. Serve with crackers.
Yield: 4-6 servings

In Murder On The Half Shelf, Angelica has a hankering for something sweet.
It turns out Tricia had everything on hand she needed to make a delicious and
easy sweet treat.  Make it once and you'll make it again…and again!
(It's great for the holidays!)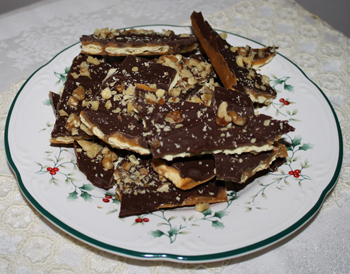 Simply Crackers Candy
One "sleeve" of saltine crackers (about 35)
2 sticks butter (1 cup)
1 cup brown sugar
1  11.5 ounce package of chocolate chips*
3/4 cups chopped walnuts* (optional)
Line a baking tray with foil and cover with saltine crackers. Boil butter and
brown sugar for 3 minutes until frothy. Pour over the crackers.
Bake at 400° for 5 minutes. The butter/sugar mixture will bubble. Remove from
the oven and sprinkle with chocolate chips. Let set for five minutes. Spread
chocolate with spatula, and sprinkle with nuts. (Gently press the nuts into the
chocolate.) Refrigerate at least 1 hour; break into pieces. (Refrigerate the
leftovers . . . if there are any.)
*I use milk chocolate chips, but you can vary the recipe with semi-sweet
chocolate and even peanut butter-flavored chips.

Although Sentenced to Death takes place in summer, Angelica is cooking up
a Thanksgiving feast for her next cookbook.  In it, she's using leftover
turkey and turning it into tasty meals.  One of them is my favorite . . .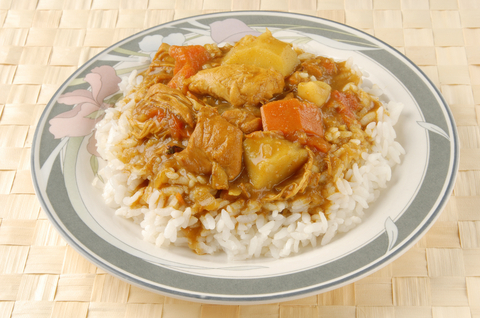 Turkey Curry
Ingredients
2 cups milk
2 chicken bouillon cubes
2 cups diced peeled apples
1 rib celery, chopped
1 cup chopped onion
1/4 cup vegetable oil
2 tablespoons all-purpose flour
2 teaspoons curry powder *
1/2 teaspoon salt
1/4 teaspoon pepper
1 tablespoon lemon juice
4 cups diced cooked turkey (or chicken)
Hot cooked rice
2 hard boiled eggs, diced (optional)
1/2 cup roasted peanuts (optional)
Minced cilantro (optional)
Directions
In a small saucepan, heat the milk and bouillon, stirring until bouillon is
dissolved. Set aside.
In a large saucepan, sauté apples, onion and celery in oil until tender. Stir in
the flour, curry powder, salt and pepper until blended. Gradually add milk
mixture and lemon juice. Bring to a boil; cook and stir for 2 minutes or until
thickened. Add turkey and heat through. Serve over rice. Garnish with chopped
egg, peanuts, and cilantro.
Serves 4.
*If you're like me and prefer your curry hotter, use up to 2 tablespoons
curry paste.

For the happiest birthday ever, try serving Angelica's coconut cake, which appeared in Chapter & Hearse.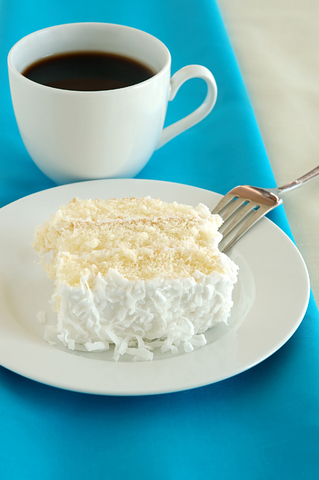 Coconut Cake
3 cups sifted cake flour (sift before measuring)
2 teaspoons baking powder
1/4 teaspoon salt
1 cup butter, room temperature
1 pound powdered sugar
4 egg yolks, well beaten
1 cup milk
1 teaspoon vanilla
1 cup shredded coconut
4 egg whites, well beaten
Measure the sifted cake flour into a bowl. Add baking powder and salt. Sift
these ingredients at least 2 times. In a mixing bowl, cream butter, and
gradually add sugar. Continue creaming until light and fluffy. Add the beaten
egg yolks and beat well. Add flour mixture alternately with the milk, beating
well after each addition. Stir in coconut and vanilla. Gently fold in egg
whites. Bake in three greased 8-inch pans at 350° for about 30 minutes, or until a
wooden pick inserted in the center comes out clean. (Makes three 8-inch layers.)
Coconut Icing
1 cup (2 sticks) unsalted butter, room temperature
2 1/2 cups confectioners' sugar
1/3 cup coconut milk, room temperature*
1 1/2 teaspoons vanilla extract
1/8 teaspoon salt
1 1/2 cups sweetened flaked coconut
(*You can substitute regular milk for the coconut milk, but also substitute coconut extract instead of vanilla extract.)
Using an electric mixer, beat butter in large bowl until smooth. Add sugar, coconut milk, vanilla, and salt. Beat on medium-low speed until blended, scraping down the sides of the bowl. Increase to medium-high and beat until light and fluffy.
Frost cake. Gently press coconut onto the sides of the cake, and sprinkle the top with coconut, too.
Serves 6-8
Check out all the recipes from Chapter & Hearse.

When the holidays are upon us, it's time to get out the baking pans.  You don't have to be a child to enjoy baking and eating cut-out cookies any time of the year.  With just a little upfront prep, you can be in the kitchen baking (and sampling) delicious cookies in no time.
Here's Angelica's favorite recipe for . . .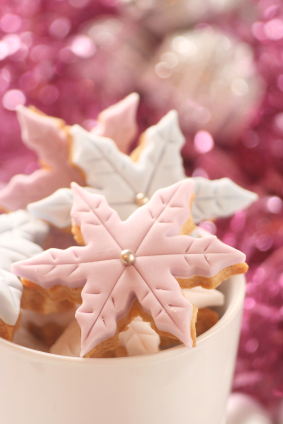 Cut-Out Cookies
2/3 cup sugar
1 tsp. vanilla extract*
2/3 cup vegetable shortening
2 slightly beaten eggs
2 1/2 cups flour
1/2 tsp. salt
1 1/2 tsp. baking powder
Mix all ingredients together until it forms a ball. Place dough in plastic bag
or covered bowl. Refrigerate for four hours or overnight.
Preheat oven to 350F.
On floured board roll out to about 1/4 inch thickness. Cut out shapes with
cookie cutters of your choice. Bake at 350 for 8-10 minutes until the edges just
start to brown. When completely cool, frost. If you wish to add colored sugars,
do so before you bake the dough.
(This recipe doubles well.)
*You can substitute the vanilla extract or any flavor you enjoy (almond, anise,
orange, lemon, etc.)

When those cold north winds start blowing, it's time to get out the soup pot. There's nothing like homemade soup to warm you through and through–and soup is good for you, too!
Here's Angelica's recipe from Bookplate Special for Potato and Leek Soup.  Yum!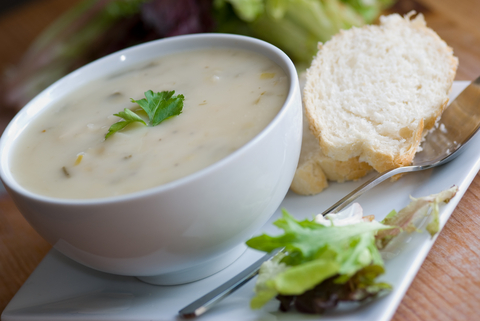 Potato & Leek Soup
2 tablespoons butter
2 cloves diced garlic
2 good sized potatoes (or about 1 pound)
2 good-sized leeks (or about 1 pound)
4 cups chicken broth
1/4 teaspoon salt
1/4 teaspoon black pepper
1 cup milk or light cream
Clean and chop white part of the leeks. Melt the butter in a large saucepan and add the chopped leeks and garlic. Sautee them over a low to medium heat until the leeks are soft (about ten minutes). Stir frequently; do not brown.
Add all the remaining ingredients to the pan except the milk/cream. Bring the soup to the boil and then let it simmer for 15-20 minutes.
If you prefer a smooth soup, mash the potatoes in the pan, or puree in a blender. Just before serving, pour the milk/cream into the soup; stir well and heat through.
Serves 4
For those who like seafood, try Lobster Bisque, from Murder Is Binding.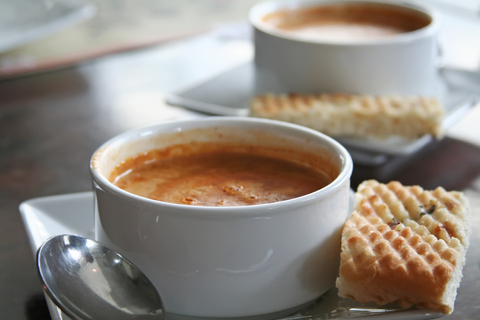 Lobster Bisque
1 lobster (1 1/2 pounds)
2 stalks celery
2 shallots, minced
1 small onion, chopped
1 cup butter (1/2 pound)
2 cups half-and-half (or whole milk)
lobster broth
1 teaspoon paprika
1/2 cup sherry
1 cube chicken bouillon
salt, white pepper
1 cup flour
3 cups reserved lobster broth
Place lobster and celery in a heavy saucepan and cover with cold water. Bring to
a boil; boil for 10 to 15 minutes or until lobster is red and cooked.
Remove lobster, set aside to cool. Strain broth and set aside.
In a large saucepan, melt butter, sauté shallots and onion until soft/translucent. Add half-and-half plus some of the lobster broth (reserving 3 cups for later). Heat thoroughly, then add seasoning, sherry, and bouillon cube. In a bowl, mix together the flour and 3 cups of lobster broth. Heat until thickened.
Remove meat from lobster and add to the bisque. Allow the bisque to simmer (do
not boil) for 15 minutes, stirring occasionally.
Click here to find all the recipes from Murder Is Binding!

Our first featured recipe is from BOOKPLATE SPECIAL, Mini Spinach Quiches, requested by Judy Clemens.  I admit, they're a bit finicky to make (or at least the shells are), but they are well worth the effort.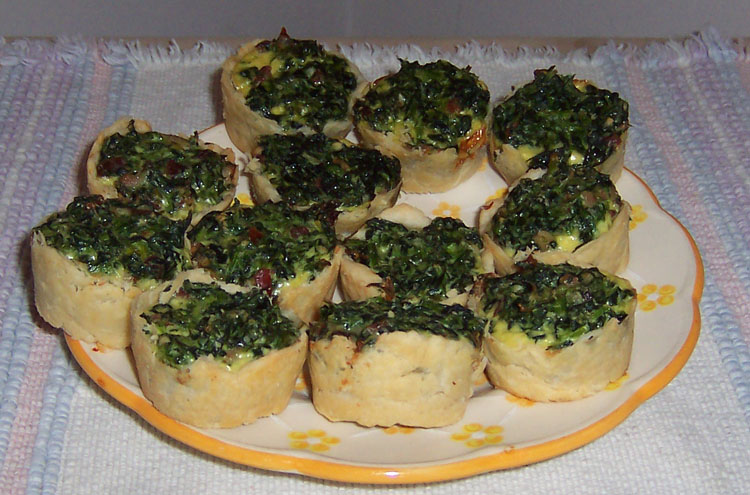 Mini Spinach Quiches
½ cup butter or margarine, softened
1 package (3 ounces) cream cheese, softened
1 cup all-purpose flour
3 slices bacon
1/4 cup chopped green onion
2 eggs
1/2 cup half-and-half cream
1/2 cup grated Parmesan cheese
1/4 teaspoon salt
1/8 teaspoon ground nutmeg
1 (10 ounce) package frozen spinach, thawed and well drained (use your hands to
squeeze out the water)
In a small mixing bowl, cream butter and cream cheese. Add flour; beat until
well blended. Shape into 24 balls. Press balls into the bottom and the sides of
greased mini muffin cups.
Preheat oven to 350º degrees. In a skillet, cook the bacon until brown and very crisp; drain. Sautee the onions in the same skillet with the bacon drippings, cook for 5 minutes, or until tender, stirring constantly; drain. Place the onions in a medium bowl. Crumble the bacon into small pieces, and add in with the cooked green onion. Add the eggs to the bacon and onions; beat well. Stir in the cream, salt, nutmeg and the Parmesan cheese. Add in the squeezed spinach; mix well to combine. Divide the mixture into crust-lined cups (do not overfill).
Bake for 25-30 minutes, or until puffed and golden brown. Cool in pan on wire rack for 5 minutes. Serve warm or cool. Store leftovers in the refrigerator.
Makes 24
(Check out all the recipes for Bookplate Special!)
Come back soon for more recipes!
Send your recipe wish to: [email protected]
Lorna is a member of The Cozy Chicks Blog.  Check out the recipes from her Victoria Square Mystery series in The Cozy Chicks Kitchen.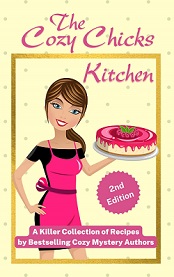 They include:
Apple Fritters
Andy's Cole Slaw
Beer Cake
Brown Sugar Walnut Cookies
Cheesy Chive Potatoes
Chocolate Sin
Peanut Butter Oatmeal Bars
Zingy Ginger Scones
Check out recipes and essays from Lorna's alter ego, Lorraine Bartlett, in Tea Time With The Cozy Chicks.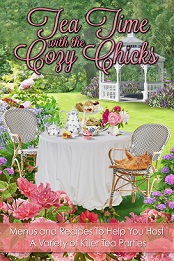 Recipes Include:
Raisin Scones
Almond Shortbread
Old-Fashioned Date Bars
Waldorf Salad Sandwiches
Ham & Cheese with Chutney Sandwiches
Honey Apple Salad
Apple-Cinnamon Scones
Apple Butter
Apple-Cheese Tea Sandwiches
Applesauce Cake
Baked Apples
Available in Trade Paperback | Kindle US |
Kindle Worldwide | iBooks  | Kobo | Nook | Smashwords
---
Check out Lorna's alter-ego's cookbooks by Lorraine Bartlett: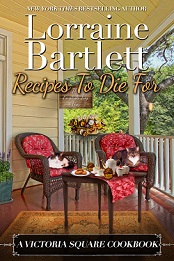 Recipes to Die For: A Victoria Square Cookbook
Katie Bonner and the rest of the locals from Victoria Square invite you into their kitchens to share tantalizing recipes and intimate stories about food, family, and life. So tie on your apron and sharpen your knives, because Recipes To Die For is chock full of culinary treasures such as Andy Rust's Cinnamon Rolls, Vance Ingram's Barbequed Ribs, and Sweet Sue's Toffee Squares. And you don't want to miss Aunt Lizzie's Cream Scones. They're to die for!
Trade Paperback Available From:
Amazon US  |  Amazon UK  |  Barnes & Noble
And as E Books:
Kindle US ~ Kindle UK ~ Kindle Worldwide ~ Nook
Kobo ~ Apple Books ~ Smashwords ~ Google Play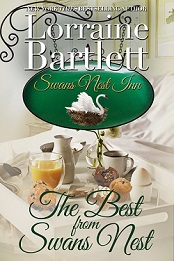 THE BEST FROM SWANS NEST (from the Lotus Bay Mysteries)

Kathy Grant, owner of the Swans Nest Inn on beautiful Lotus Bay, has collected more than a hundred mouth-watering recipes that she not only offers her B&B guests, but the brides who book their engagement and wedding parties at the inn.
Now you can enjoy the same treats like sweet sausage coffee ring, lots of marvelous muffins, quiche, stuffed mushrooms and many, many more!
Kindle US | Kindle UK | Kindle Worldwide
Nook  |  Apple Books  |  Kobo  | Google Play  | Smashwords