Bookmarked for Death

TLALPENO-STYLE SOUP
Ingredients
6 ½ cups chicken stock
½ chipotle chile, seeded
4 skinless, boneless chicken breasts
1 medium avocado  (slightly under-ripe for easier handling)
6 scallions, finely chopped
14-ounce can chickpeas (garbanzo beans), drained
1 cup cooked rice
salt and fresh-ground black pepper
1 cup grated cheddar cheese (to serve)
1 tablespoon chopped fresh cilantro (optional)
Pour in chicken stock in a large saucepan, and add the chile.  Bring to a boil.  Add the whole chicken breasts, then lower the heat and simmer for about 12 minutes or until the chicken is cooked.  Remove the chicken from the pan and it let cool a little.
Shred the chicken into small pieces and set it aside.
Cut avocado in half, remove the skin and pit, then chop into 1/2-inch pieces.  Add it to the stock, with the chickpeas and scallions. Return the shredded chicken to the pan, add rice, and heat through.   Add salt and pepper to taste.
Ladle into bowls, sprinkle with grated cheese.  If desired, top with cilantro.  Serve immediately.
Serves 6.

The last thing on Tricia's mind is food when she hosts an author signing at Haven't Got a Clue and the author turns up dead. But that kind of trouble makes Angelica want to cook comfort food. Sit down at the table, shake out your napkin, and dig in!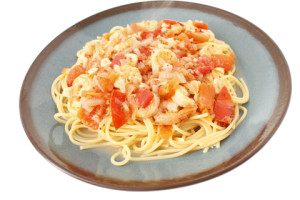 SHRIMP SCAMPI
Ingredients
1 ½ to 2 pounds large shrimp (about 16 to 24), peeled and deveined
1/3 cup clarified butter or olive oil
2 cloves minced garlic (I often toss in a more)
6 green onions, thinly sliced
1/3 cup dry white wine or vermouth
2 tablespoons lemon juice, fresh if possible
3 tablespoons chopped fresh parsley
salt and pepper, to taste
Rinse shrimp and set aside. If they're frozen, defrost them first.  Heat butter or oil in large skillet over medium heat. Add garlic; cook 1 or 2 minutes or until softened; do not brown. Add shrimp, green onions, wine, and lemon juice. Cook until shrimp are pink, about 1 to 2 minutes on each side.  Serve over linguini or your favorite pasta. Sprinkle with parsley as a garnish.
Yield:  4 Servings

Pastry Chicken Cordon Bleu
Ingredients
2 sheets frozen puff pastry
4 boneless chicken breasts
8 slices deli Swiss cheese
4 slices deli ham (I like mine sliced medium to thick)
2 tablespoons butter
salt and pepper (optional)
Thaw pastry at room temperature for 30-40 minutes. Season chicken with salt and pepper if desired.  In a medium skillet over medium-high heat, heat butter; add chicken and cook until browned. Remove chicken from skillet. Cover and refrigerate at least 15 minutes.
Unfold pastry and place it on a lightly floured board; roll it out until it is 1-inch wider and longer.  Cut pastry in half and layer 1 slice each of cheese, chicken, and ham, and second slice of cheese.  Fold over top half to and press the sides closed with your fingers.  Repeat the process, making a total of 4 pieces.
Bake in 400°F (200°C, Gas Mark 6) oven for 20 minutes or so, until the pastry is puffed and golden.
Serves 4

Stuffed Baked Potatoes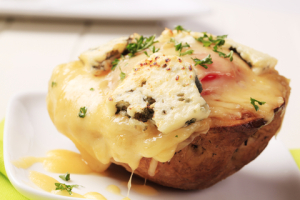 3 large baking potatoes (1 pound each)
1 ½ teaspoons vegetable oil (optional)
½ cup sliced green onions
½ cup butter, divided
½ cup half-and-half
½ cup sour cream
1/2 teaspoon salt
1/2 teaspoon black pepper
1 cup (4 ounces) shredded cheddar cheese
Paprika
Rub potatoes with oil if desired; pierce with a fork.  Bake at 400° for 1 hour and 20 minutes or until tender.  Let stand until cool enough to handle.
Cut each potato in half lengthwise. Scoop out the pulp, leaving a thin shell.  Place pulp in a large bowl and mash it.  In a small skillet, sauté onions in ¼ cup butter until tender. Stir into potato pulp along with half-and-half, sour cream, salt, and pepper. Fold in cheese.
Spoon mixture into potato shells.  Place on a baking sheet.  Melt remaining butter; drizzle it over the potatoes. Sprinkle with paprika.  Bake uncovered at 350° for 20-30 minutes, or until heated through.
Potatoes may be stuffed ahead of time and refrigerated or frozen. Allow additional time for reheating
Feel free to add other toppings, such as chopped chives, chopped mushrooms, or crumbled bacon to the mix.
Makes 6 servings.

Peanut Butter Blondies
Ingredients
2 cups all-purpose flour
1 ½ teaspoons baking powder
½ teaspoon salt
2/3 cup butter
2 cups firmly packed light brown sugar
2 large eggs, beaten slightly
10 ounces peanut butter morsels
1 cup chopped peanuts (optional)
Combine flour, baking powder, and salt in a bowl and set aside.
Melt butter in a large saucepan over medium-low heat.  Add brown sugar and eggs and stir well.  Gradually add to flour mixture.  Add morsels and nuts, stirring well.  (Batter will be stiff.)  Spread batter in a lightly greased 13" x 9" x 2" pan.  Bake at 350F for 30 minutes. Cool completely in the pan on a wire rack.  Cut into squares.
Makes approximately 30 brownies

Nikki's Recipes
Easy-to-make White Ganache
1 ½ cups heavy cream
8 ounces white chocolate chips
In a saucepan heat the cream and bring it to a boil. Remove from the heat. Place white chocolate chips in a large bowl and pour hot cream into the bowl. Let sit for 1 minute or so, then whisk until smooth. Transfer to the refrigerator to cool, stirring occasionally.
When mixture is cold and thickened, beat with an electric mixer into soft peaks, then beat the last few strokes by hand with a whisk until thick and firm. Do not over whisk or mixture will become grainy.
For flavored ganache, use 1 ounce less of cream and add 1 ½ ounces of rum or your favorite liqueur. Or add ¼ teaspoon vanilla extract, or other flavoring.
Ganache can stay at room temperature for 2 days, as long as it's kept in a cool place.
Makes 2 cups
Buttermilk Sugar Cookies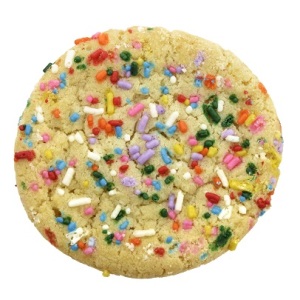 1 cup vegetable shortening
2 eggs
1 cup buttermilk (or commercial eggnog)
½ teaspoon baking soda
3 heaping teaspoons baking powder
1 ½ cup sugar
1 teaspoon vanilla
4 ½ cups flour
In a large bowl, cream together sugar and shortening until fluffy.  Add eggs and vanilla.  In a separate bowl, mix flour, soda, and baking powder.  Alternate adding buttermilk and dry ingredients to the creamed mixture.
Refrigerate overnight.
Divide dough into 4 equal pieces. Roll out a portion on floured surface to ¼ inch thickness.  (To keep dough from getting tough, use confectioner's sugar instead of flour.)  Cut out with your favorite cookie cutters.  Place on lightly greased or nonstick cookie sheets or parchment paper-covered baking trays.
Bake at 350F for 8-10 minutes, until they just start to brown.
Cool completely in pans for about 5 minutes, transfer to cooling/wire racks, and cool completely before decorating.
Frosting
1/2 cup confectioner's sugar
1 1/2 tablespoons water
3 to 4 drops food coloring (or more as needed)
Colored sprinkles (optional)
In a small bowl, mix sugar and water to form a thick, smooth icing. Stir in food coloring to reach desired shade. Use separate bowls for additional colors.  Frost cookies.  Add sprinkles before icing dries.
Red Velvet Cake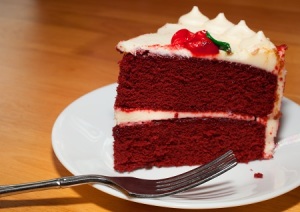 Ingredients
½ cup shortening
1 ½ cups sugar
2 eggs
2 tablespoons cocoa
1 ½ ounces red food coloring
1 teaspoon salt
2 ½ cups flour
1 ½ teaspoon vanilla
1 cup buttermilk
1 teaspoon soda
1 tablespoons vinegar
Cream shortening; beat in sugar gradually. Add eggs, one at a time; beat well after each addition. Make a paste of cocoa and food coloring; add to creamed mixture. Add salt, flour and vanilla alternately with buttermilk, beating well after each addition. Sprinkle soda over vinegar; pour the mixture over batter.  Mix well.
Bake in 3 prepared 8-inch pans or 2 9-inch pans for 30 minutes at 350°, or until toothpick tester comes out clean.
12 Servings
FROSTING:
1 package (8 ounces) cream cheese, softened
1 ½ cups butter, softened
3 ¾ cups confectioners' sugar
3 teaspoons vanilla extract
In a large mixing bowl, combine frosting ingredients; beat until smooth and creamy. Spread between layers and over top and sides of cake.
Blood Glaze
You can color your cream cheese frosting with red food coloring, or make your own "stage" blood.
1 cup white corn syrup
1 tablespoon red food coloring
1 tablespoon yellow food coloring
1 tablespoon water (optional; it'll "thin" the "blood")
Makes 1 cup

---
WANT MORE RECIPES?
Lorna's alter-ego, Lorraine Bartlett, has written two cookbooks: Recipes to Die For (A Victoria Square Cookbook), featuring the characters and their favorite foods and drinks from the Victoria Square Mysteries, and The Best From Swans Nest, highlighting character Kathy Grant's B&B Swans Nest Inn.
Lorna/Lorraine posts every regularly on the Cozy Chicks Facebook Group Page. The (collective) Cozy Chicks have published three cookbooks, The Cozy Chicks Kitchen, Tea Time With The Cozy Chicks, and (a free download) The Cozy Chicks Picnic. Click this link for more information on these terrific cookbooks, containing recipes from the Chicks' and their cozy mystery characters.