Purchase Information : Reviews : Characters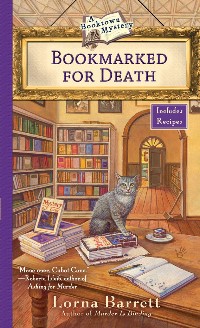 What do a stone book and a stabbed cake have to do with Zoë Carter's death?
Once a struggling town, Stoneham, New Hampshire is now enjoying a renaissance–thanks to booksellers like Tricia Miles, proprietor of Haven't Got a Clue. It's a great place to find a good mystery to read–or to solve ….
To celebrate her bookstore's anniversary, Tricia Miles hosts a book signing for bestselling author Zoë Carter. But the event takes a terrible turn when the author is found dead in the washroom. Before long, both police and reporters are demanding the real story. So far, the author's obnoxious assistant/niece is the only suspect. And with a sheriff who provides more obstacles than answers, Tricia will have to take matters into her own hands–and read between the lines to solve this mystery….


Order from:
Amazon.com
Barnes & Noble
Books A Million
Berkley Prime Crime
Chapters/Indigo
Book Depository
Find it through IndieBound
Kindle US ~ Nook ~ Kobo ~ Apple Book~ Google Play

Gumshoe Review
"Interesting characters, growing interrelationships, plausible reasons for crime and an amateur to get involved in finding the answers–it's like visiting friends and having an adventure rolled into one book after another."
Fangirl Nation
"Bookmarked for Death delighted me and kept me drawn to the book without wanting to put it down. I loved the path the plot took and found it clever. This book displays what strong writing skills Barrett has. Five stars!"
Roundtable Reviews
"BOOKMARKED FOR DEATH is the second installment of the Booktown Mystery series, a series that will quickly gain a dedicated readership. If anyone has the formula for a frolicking fun mystery down pat, it's Lorna Barrett. The read is light and sheer entertainment. A good rollicking read."
Mystery Scene Magazine
A bookstore owner's worst nightmare–the author found dead in the washroom–starts off Lorna Barrett's charming Bookmarked for Death. Tricia Miles, the owner of Haven't Got a Clue bookstore in the little town of Stoneham, New Hampshire, better solve this mystery before she takes the fall.
Mystery News
Bookmarked for Death is a good cozy. The characters are likable and the puzzle is intriguing.
Book Illuminations/Merrimon Book Reviews
"Clever twists in the mystery puzzle take readers on a journey through the intricate layers of book publishing. BOOKMARKED FOR DEATH is a mystery to be cherished by insiders in the book world — from authors and agents to readers…."
"Fans of Carolyn Hart and Denise Swanson rejoice! The latest gem in Lorna Barrett's Booktown series, BOOKMARKED FOR DEATH sparkles. This first-rate cozy artfully blends crime, cuisine and even bookselling in a cheerful, witty, well-plotted puzzler."—Julia Spencer-Fleming, Edgar finalist and author of I SHALL NOT WANT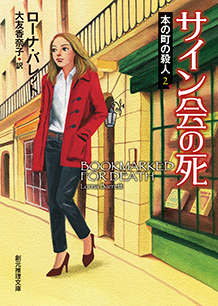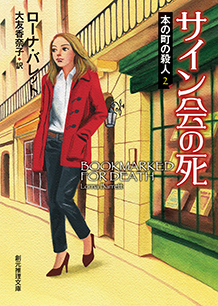 The Japanese edition of
Bookmarked For Death
Check out Angelica's recipes from Bookmarked For Death.