Chapter & Hearse marks a pivotal time for Angelica, as she's about to launch her first book tour for her cookbook.  Here are a sample of some of her recipes.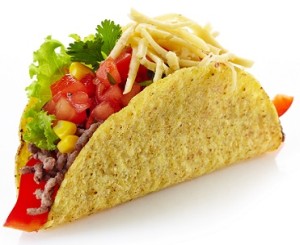 Hacienda Tacos
Ingredients
3 cups coarsely chopped or shredded (pulled) simmered chicken
1 onion, chopped
½  green pepper, chopped
1 ½ teaspoon salt
1/8 teaspoon pepper
1 ½ to 2 teaspoon chili powder (according to taste)
1 (8 oz.) can tomato sauce
8 oz. water
12 corn (or flour) 8 or 9 inch tortillas (or taco shells)
1 cup lettuce cut into strips
1 tomato, chopped
¾ cup grated or shredded Cheddar cheese
Your favorite bottled salsa
In a large skillet, mix together the chicken, onion, green pepper, salt, pepper, chili powder, tomato sauce and water. Cook covered over low heat for about 15 minutes. Cook, uncovered for five to ten minutes, until the excess liquid is gone. Oven heat the tortillas and fill the lower 3/4 with chicken mixture and the remainder with the tomatoes, cheese and lettuce. Top as needed with a spoonful of the salsa.

COCONUT CAKE
Ingredients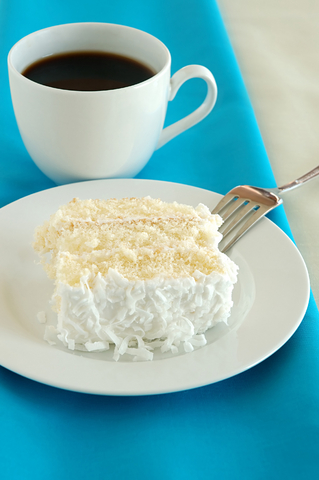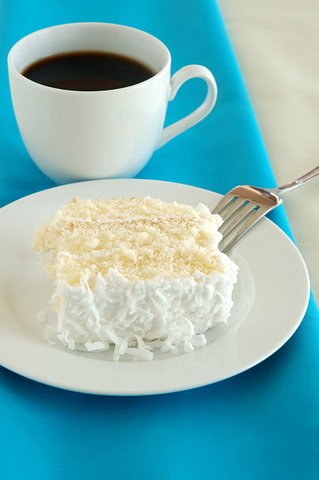 3 cups sifted cake flour (sift before measuring)
2 teaspoons baking powder
1/4 teaspoon salt
1 cup butter, room temperature
1 pound powdered sugar
4 egg yolks, well beaten
1 cup milk
1 teaspoon vanilla
1 cup shredded coconut
4 egg whites, well beaten
Measure the sifted cake flour into a bowl. Add baking powder and salt. Sift these ingredients at least 2 times. In a mixing bowl, cream butter, and gradually add sugar. Continue creaming until light and fluffy. Add the beaten egg yolks and beat well. Add flour mixture alternately with the milk, beating well after each addition. Stir in coconut and vanilla. Gently fold in egg whites. Bake in greased 8-inch pans at 350° for about 30 minutes, or until a wooden pick inserted in the center comes out clean.  Makes three 8-inch layers.
COCONUT ICING
Ingredients
1 cup (2 sticks) unsalted butter, room temperature
2 ½ cups confectioners' sugar
1/3 cup coconut milk, room temperature*
1 ½ teaspoons vanilla extract
1/8 teaspoon salt
1 ½ cups sweetened flaked coconut
(*You can substitute regular milk for the coconut milk, but also substitute coconut extract instead of vanilla extract.)
Using an electric mixer, beat butter in large bowl until smooth. Add sugar, coconut milk, vanilla, and salt. Beat on medium-low speed until blended, scraping down the sides of the bowl. Increase to medium-high and beat until light and fluffy.
Frost cake.  Gently press coconut onto the sides of the cake, and sprinkle the top with coconut, too.
Serves 6-8

BLUEBERRY MUFFINS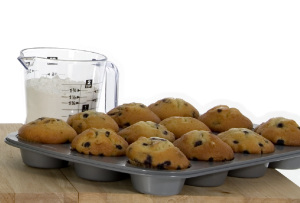 Ingredients
1 egg
½ cup milk
¼ cup butter, melted
1 ½ cups all-purpose flour
½ cup sugar
2 teaspoons baking powder
¼ teaspoon salt
1 cup fresh blueberries or well-drained frozen blueberries (thawed)
Heat oven to 400º Grease the bottoms of 12 medium muffin cups or line with paper baking cups.  Beat egg; stir in milk and melted butter.  Mix in remaining ingredients just until flour is dampened.  Batter should be lumpy.
Fill muffin cups two-thirds full.  Bake 20 to 25 minutes or until golden brown.  Immediately remove from pan.
Makes 12 muffins

CINNAMON COFFEE CAKE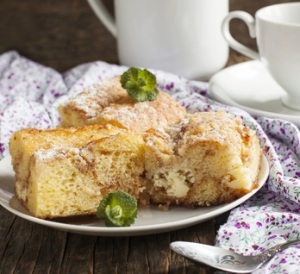 Ingredients
1 ½ cups all-purpose flour
¾ cups sugar
2 ½ teaspoons baking powder
¼ teaspoon salt
¼ cup butter
¼ cup milk
1 egg
Heat oven to 375º.  Grease round layer pan 9 x 1 ½ inches or 8x8x2 square pan.  Blend all ingredients except topping.  Beat vigorously for 30 seconds.  Spread batter in pan.  Sprinkle topping over batter.  Bake 25 to 30 minutes or until wooden toothpick inserted in the center comes out clean.  Serve warm.
Topping:
1/3 cup brown sugar (firmly packed)
¼ cup all-purpose flour
½ teaspoon cinnamon
3 tablespoons firm butter.
Mix all topping ingredients until they resemble course crumbs.
Variations:  Add
½ cup chopped walnuts and/or
½ cup raisins to cake batter.
9 servings

MRS. ROTH'S LEMON BARS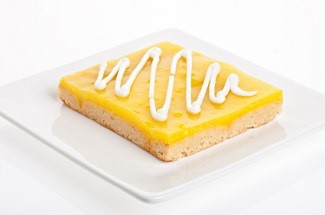 Ingredients
1 cup flour
1/2 cup butter, softened
1/4 cup powdered confectioner's sugar
Preheat oven to 350º degrees. Mix these ingredients and press into an ungreased 8" x 8" square pan, building up the edges. Bake –15-20 minutes, or until just starting to brown.
For the filling
2 eggs
1 cup granulated sugar
1/2 tsp. baking powder
1/4 teaspoon salt
2 teaspoon grated lemon peel (about one lemon's worth)
2 tablespoon lemon juice (about one lemon's worth)
Reduce oven to 300º Beat the above ingredients together until they're light and fluffy (about 3 minutes).  Pour over the crust while it is still hot.  Bake until no indentation remains when you touch lightly in the center, about 25 minutes.  When cool, cut into squares.  Dust with a bit more confectioner's sugar.
Mrs. Roth liked to add a dab of yellow paste food coloring to her lemon bars, but they don't need it (and I don't recommend it).
---
WANT MORE RECIPES?
Lorna's alter-ego, Lorraine Bartlett, has written two cookbooks: Recipes to Die For (A Victoria Square Cookbook), featuring the characters and their favorite foods and drinks from the Victoria Square Mysteries, and The Best From Swans Nest, highlighting character Kathy Grant's B&B Swans Nest Inn.
Lorna/Lorraine posts every regularly on the Cozy Chicks Facebook Group Page. The (collective) Cozy Chicks have published three cookbooks, The Cozy Chicks Kitchen, Tea Time With The Cozy Chicks, and (a free download) The Cozy Chicks Picnic. Click this link for more information on these terrific cookbooks, containing recipes from the Chicks' and their cozy mystery characters.