Murder Is Binding Recipes!
Tricia is not a good cook, but she's rather surprised to find that her sister Angelica is, and she cooks up a storm in Murder Is Binding.  Here are all the recipes contained in that book.  Enjoy!
STROMBOLI
Angelica is a stickler for making things from scratch.  Unfortunately, not all of us have the time.  Therefore, this recipe uses a shortcut of two loaves of frozen bread dough.  But if you'd like to follow in Angelica's footsteps, by all means use your favorite from-scratch bread recipe.  Feel free to play with the ingredients and add others to this wonderful bread that makes a meal when accompanied by most soups.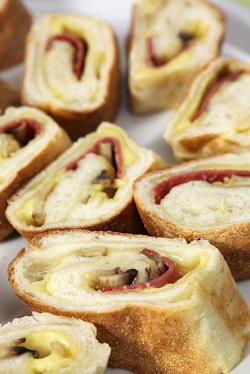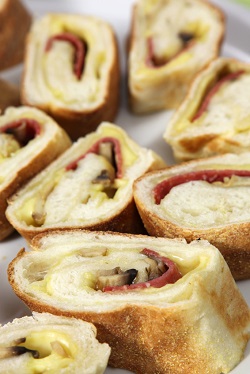 Ingredients
2 loaves (1 pound each) frozen bread dough, thawed
½ pound sliced ham
¼ pound sliced pepperoni
¼ pound sliced hard salami
¼ pound sliced mozzarella cheese
¼ pound sliced Swiss cheese
¼ small onion, chopped
¼ cup chopped green, orange, or red pepper
1 jar (14 ounces) pizza sauce, divided
1 teaspoon dried basil
1 teaspoon dried oregano
¼ teaspoon garlic powder
¼ teaspoon pepper
2 tablespoons butter, melted
Let dough rise in a warm place until doubled.  Punch down.  Roll loaves together into one 15-inch-by-12-inch rectangle.
Layer ham and pepperoni on half of the dough (lengthwise).  Sprinkle with the onion and green pepper.  Top with ¼ cup of pizza sauce.  Layer the mozzarella, salami, and Swiss cheese over sauce.  Sprinkle with basil, oregano, garlic powder, and pepper.  Spread another ¼ cup of the pizza sauce on top.
Fold plain half of the dough over the filling and seal the edges well.  Place on a foil-lined, lightly greased baking pan.
Bake at 375°F for 30 to 35 minutes.  Brush with melted butter.  Heat the remaining pizza sauce and serve with the sliced Stromboli.  Serves 4 to 6.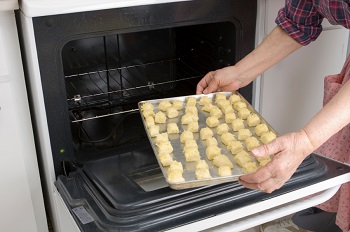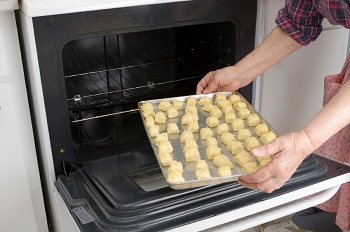 CRAB PUFFS
Ingredients
1 cup crabmeat (canned will also work)
½ cup shredded sharp cheddar cheese
2 tablespoons chopped chives
1 teaspoon Worcestershire sauce
1 teaspoon lemon juice
1 teaspoon dry mustard
1 tablespoon dill weed
½ cup (1 stick) butter
1 cup beer (can also substitute chicken broth or clam juice)
½ teaspoon salt
½ teaspoon lemon pepper
1 cup all-purpose flour
4 large eggs
Preheat oven to 400°F. Line baking sheets with parchment paper or aluminum foil. In a bowl, combine crabmeat, cheese, chives, Worcestershire sauce, lemon juice, mustard, and dill weed.  Set aside.  In a large saucepan, melt butter, add beer, salt, and lemon pepper. Bring to a boil. Add flour, remove from heat, and stir briskly with a wooden spoon. Return to heat. Continue to beat until a dough ball forms. Remove from heat.
Add eggs to dough, one at a time, beating vigorously after each addition until well combined. Fold crab mixture into dough. Drop by spoonfuls onto baking sheet.
Bake crab puffs 25 to 30 minutes until crispy and golden brown.  Best served warm.
YIELD:  35 to 40 crab puffs.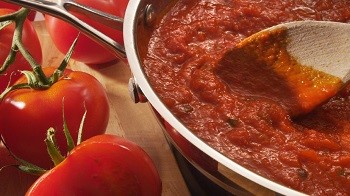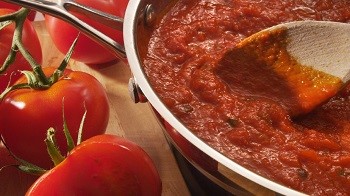 SPAGHETTI SAUCE
Ingredients
3 cloves garlic, chopped (I often toss in a LOT more)
1 large onion, chopped
3 bay leaves
1 teaspoon salt
1½ teaspoons sugar
2 cans tomato puree (28-ounce size)
1 can crushed tomatoes (28-ounce size)
1 can tomato paste (6-ounce size)
1-2 tablespoons olive oil
1 pound country spareribs
1 pound Italian sausage links (I use hot)
In a large pot, heat oil, brown onion and garlic, sear ribs and brown sausage.  Empty contents of all the cans (tomatoes, puree, and paste), add bay leaves.  Simmer 3 to 4 hours, longer if you like a thicker sauce.  Stir occasionally.  Serve over your favorite pasta with grated Parmesan or Romano cheese, and with crusty bread.

BEAST STROGANOFF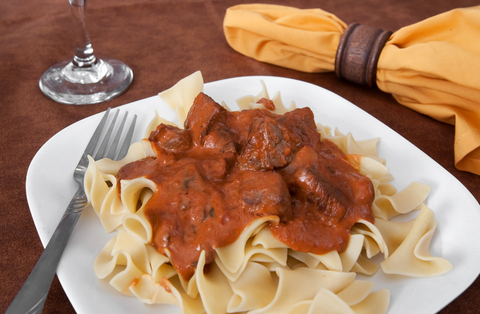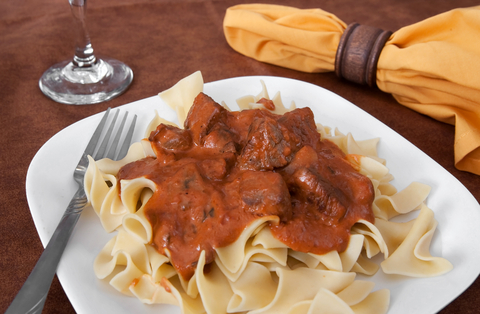 Ingredients
3 pounds beef, veal, or venison, sliced thin on the diagonal (you can used leftover meat if you have it)
1 pound medium-size mushrooms
10 tablespoons butter (1¼ sticks)
2 medium onions, sliced thin
3 cups sour cream
1½ tablespoons prepared Dijon-style mustard
3 tablespoons tomato paste – sun-dried in a tube gives the strongest flavor
3 tablespoons Worcestershire sauce
2 teaspoons sweet paprika
¾ teaspoon salt
black pepper, freshly ground, to taste
In a medium-sized saucepan, combine the sour cream, mustard, tomato paste, Worcestershire sauce, paprika, salt, and pepper and simmer slowly for 20 minutes, then remove from heat, cover, and keep aside while you cook the rest of the ingredients.
After washing the mushrooms, slice them thin and sauté in 3 tablespoons of butter until tender. Put in a separate container.
Cook the sliced onions in 2 tablespoons of butter until they are transparent and lightly browned, about 10 minutes. Put them in a bowl with the mushrooms.
Cook the meat over high heat in the remaining butter – (if using leftover meat, just until warm; if raw meat, 3 or 4 minutes until lightly browned).
Put sauce over medium heat, bring to a simmer, and add the mushrooms and onions, let simmer for another five minutes.
Add meat and simmer until meat is heated through, about 2 minutes.
Serve over wide noodles and enjoy!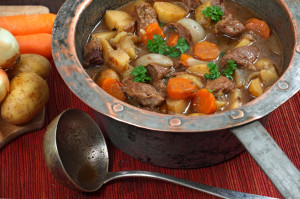 IRISH LAMB STEW
Ingredients
3 pounds stewing lamb
6 large all-purpose potatoes
4 yellow onions
2 tablespoons finely chopped parsley
1 teaspoon thyme
1 teaspoon salt
freshly ground black pepper
1½ cups chicken broth
1½ tablespoon butter, softened
1 tablespoon flour
Preheat oven to 350 degrees. Cut the lamb into slices or cubes.  Peel the potatoes and onions and cut them into thin slices or chunks. Mix the parsley and thyme together.  Butter a casserole. Arrange a layer of 1/3 of the potatoes on the bottom of the casserole.  Cover with a layer of lamb, then a layer of onions.  Season with the herbs, salt, and pepper.  Repeat to form 3 layers, seasoning between each layer and ending with the onions.  Add the broth (add enough broth so that the contents of the casserole are nearly covered but not submerged). Cover the casserole and cook in a 350 degree oven for 1½ hours until the lamb is tender. Combine the butter and flour in a small bowl and add the paste to the casserole (distributing it evenly).  Continue cooking 5 minutes until the juices are thickened.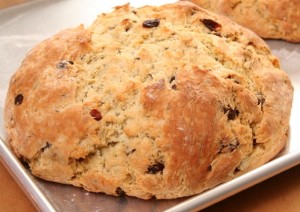 ANGELICA'S SODA BREAD
Ingredients
4 cups all-purpose flour
¼ cup sugar
1 teaspoon baking soda
2 teaspoons baking powder
1 teaspoon salt
2 large eggs
1½ cups buttermilk
¼ cup corn or canola oil
2 teaspoons caraway seeds
1 cup golden raisins
1 tablespoon milk
Preheat oven to 350°. Foil-line a baking sheet, lightly grease. In a large bowl, stir the flour, sugar, baking soda, baking powder, and salt together.  In a separate bowl, beat the eggs, buttermilk, and oil together.  Make a well in the center of the flour mixture and pour in the buttermilk mixture. Add the caraway seeds and raisins.  Stir until a soft dough forms.
With floured hands, shape the dough into a large ball on a lightly floured board or waxed paper.  With a sharp knife, make an X across the top of the dough.  Place the dough on the prepared baking sheet.  Brush the top with milk.  Bake in the center of the oven until golden brown (30 to 40 minutes).
Serve warm with butter.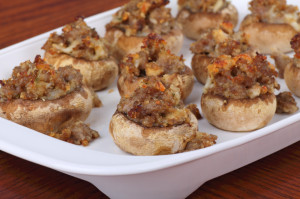 STUFFED MUSHROOMS
Ingredients
24 large mushrooms
2 tablespoons butter
1 large onion, finely chopped
4 ounces pepperoni, finely chopped
½ cup green pepper, finely chopped
2 small cloves garlic, minced
1 cup firmly crushed cracker crumbs
6 tablespoons Parmesan cheese
2 tablespoons minced parsley
2/3 cups chicken broth.
Wash and dry mushrooms.  Remove the stems and chop finely.
Preheat the oven to 325°.  Melt the butter in skillet; the add onion, pepperoni, green pepper, garlic, and chopped mushroom stems. Cook until tender. Add the crumbs, cheese, and parsley and mix well. Stir in chicken broth. Spoon the stuffing into mushroom caps. Bake uncovered for 25 minutes.  Serve hot.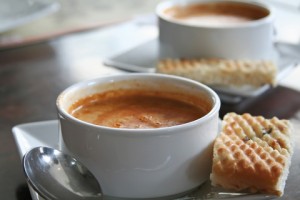 LOBSTER BISQUE
Ingredients
1 lobster (1 1/2 pounds)
2 stalks celery
2 shallots, minced
1 small onion, chopped
1 cup butter (1/2 pound)
2 cups half-and-half (or whole milk)
lobster broth
1 teaspoon paprika
1/2 cup sherry
1 cube chicken bouillon
salt, white pepper
1 cup flour
3 cups reserved lobster broth
Place lobster and celery in a heavy saucepan and cover with cold water. Bring to
a boil; boil for 10 to 15 minutes or until lobster is red and cooked.
Remove lobster, set aside to cool. Strain broth and set aside.
In a large saucepan, melt butter, sauté shallots and onion until soft/translucent. Add half-and-half plus some of the lobster broth (reserving 3 cups for later). Heat thoroughly, then add seasoning, sherry, and bouillon cube. In a bowl, mix together the flour and 3 cups of lobster broth. Heat until thickened.
Remove meat from lobster and add to the bisque. Allow the bisque to simmer (do not boil) for 15 minutes, stirring occasionally.
Buy the book!
Amazon | Kindle US | Kindle Worldwide
Barnes & Noble
Books A Million
Berkley Prime Crime
Chapters/Indigo
Book Depository
Find it through IndieBound

Kindle US ~ Kindle Worldwide ~ Nook ~ Kobo ~ iBooks
---
WANT MORE RECIPES?
Lorna's alter-ego, Lorraine Bartlett, has written two cookbooks: Recipes to Die For (A Victoria Square Cookbook), featuring the characters and their favorite foods and drinks from the Victoria Square Mysteries, and The Best From Swans Nest, highlighting character Kathy Grant's B&B Swans Nest Inn.
Lorna/Lorraine posts every regularly on the Cozy Chicks Facebook Group Page. The (collective) Cozy Chicks have published three cookbooks, The Cozy Chicks Kitchen, Tea Time With The Cozy Chicks, and (a free download) The Cozy Chicks Picnic. Click this link for more information on these terrific cookbooks, containing recipes from the Chicks' and their cozy mystery characters.