Excerpt : Purchase Information : Reviews : Characters : Large Print Edition

"Do you smell something burning?" Angelica asked.
"No." The truth was, after being sealed in the car with Angie's perfume, Tricia wondered if she'd ever be able to smell anything else again.
"Something's definitely burning . . . or maybe smoldering," Angelica insisted. Shading her eyes, she turned her head from right to left and sniffed loudly, her nose wrinkling. Tricia watched as her sister moved a few steps toward the Cookery. "Trish, I think it's coming from the mail slot next door."
"Dial 911," Tricia ordered, shoving her cell phone into her sister's hands.
She grasped the Cookery's door handle, shocked when it yielded to her touch. The smoke was thick, but with no sign of flames, Tricia took a deep breath and plunged inside. "Doris?" she called and coughed. "Doris, are you in here?"
Grateful for the security lighting, Tricia searched behind the sales counter. No sign of Doris. But a glance to her right showed that the little Lucite case that less than an hour before had housed Doris's treasured cookbook was no longer perched on the top of the shelf. Tricia stumbled over something and fell to her knees. The air was definitely better down here. Righting herself, Tricia pivoted to see what had tripped her. She gasped as she focused on the still form half protruding from behind the horseshoe-shaped kitchen island, a knife jutting from its back…
–from MURDER IS BINDING
Copyright © 2008 by the Berkley Publishing Group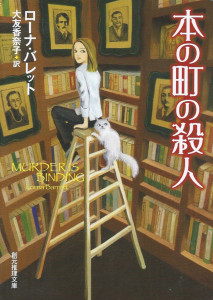 Amazon | Kindle US | Kindle Worldwide
Barnes & Noble
Books A Million
Berkley Prime Crime
Chapters/Indigo
Book Depository
Find it through IndieBound

Kindle US ~ Kindle Worldwide ~ Nook ~ Kobo ~ Apple Books  ~ Google Play
 (The Japanese Edition.)

Publishers Weekly
"Stoneham, N.H., the picturesque setting of the pseudonymous Barrett's charming first in a new series, boasts a newly renovated main street devoted to a variety of bookstores. When Tricia Miles—mystery bookstore proprietor and city refugee—discovers her unpleasant cookbook store neighbor stabbed to death and a rare book missing, Tricia soon finds herself under the sheriff's surveillance and dubbed the village jinx. Determined to clear her name and track down the stolen cookbook, Tricia enlists a few friendly locals to aid in her investigation. When her difficult older sister, Angelica, arrives unexpectedly, Tricia worries she's in for another headache, but Angelica turns out to be a willing conspirator in Tricia's search for answers. The mix of books, cooking and an engaging whodunit will leave cozy fans eager for the next installment."
Fangirl Nation
"Murder Is Binding is a well-written book, with a joy of mystery books and great characters. I heartily enjoyed listening to this and look forward to listening to more in this series! I give the book five stars!"
The Cozy Library
"Lorna Barrett has conjured up a dream of a cozy locale and populated it with great characters to give readers a fun-to-read story that will have them begging for more 'Booktown Mysteries.' Tricia and Angelica come from a deliciously dysfunctional family, one that will have readers thanking their lucky stars for their own more normal siblings."
Mystery Gazette
"Fans of regional amateur sleuth cozies will want to visit the bookstores of Stoneham guided by Tricia as she learns first hand that MURDER IS BINDING."
Merrimon Reviews
"Lorna Barrett gives readers a delicious mix of small town and family jealousies and undercurrents beneath the surface, complimented by heart-warming scenes, all brought together by Doris Gleason's murder. Readers might just find themselves hoping that this small town will forever shed the distinction of 'safest town' to make way for more Booktown mysteries!"
"Move over Cabot Cove. Lorna Barrett's new cozy creation, MURDER IS BINDING, has it all: wonderful old books, quirky characters, a clever mystery, and a cat named Miss Marple!"—Roberta Isleib, author of PREACHING TO THE CORPSE and the Advice Column Mysteries
"A mystery bookstore in a sleepy New England town, a cat named Miss Marple, a nasty murder and a determined heroine make Barrett's delightful debut mystery everything a cozy lover could want and more. Bravo!" –Leann Sweeney, author of the Yellow Rose Mystery Series
Looking for the recipes included in Murder is Binding?  Click here!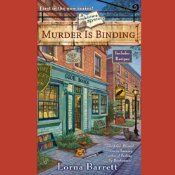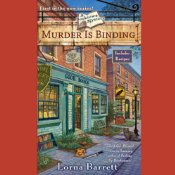 The Audio edition of Murder is Binding is also available.
Check out the audio page here.
top