Excerpt : Purchase Information : Reviews
"If anyone has the formula for a frolicking fun mystery down pat, it's Lorna Barrett," (says Roundtable Reviews), the New York Times bestselling author whose latest Booktown Mystery finds amateur sleuth Tricia Miles unexpectedly reunited with a man from a chapter of her life she closed long ago…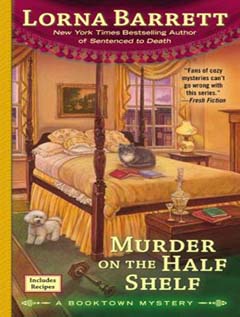 Stoneham, New Hampshire, is a haven to bookstores, including Tricia's own mystery shop, Haven't Got a Clue, but is sadly lacking in bed and breakfasts. Pippa and Jon Comfort's Sheer Comfort Inn opens its doors to the public in a week and the couple has offered some locals a free night as a trial run.
But what should have been a pleasant overnight stay for Tricia becomes a nightmare when she makes two startling discoveries: Pippa's murdered body in the backyard, and the fact that her husband Jon is actually Harry Tyler, a man Tricia loved—and believed dead—for nearly twenty years.
Now Harry is the prime suspect, but Tricia doesn't believe him capable of murder, regardless of her own feelings toward him. And even though Harry's led a life of lies, Tricia's learning that Pippa had her share of secrets that some people may have not wanted revealed…


Mass Market Paperback
Amazon ~ Barnes & Noble ~ Chapters/Indigo ~ Books A Million ~ Indiebound
As an e book!
Kindle US ~ Kindle Worldwide ~ Nook ~ Kobo ~ Apple Books
---
Check out Angelica's Recipes from Murder On The Half Shelf!
---

Tricia gave a furtive look around. Luckily, no one was in the large spacious kitchen. From the looks of the gleaming stainless steel commercial appliances, granite countertops, and refinished hardwood floor, it had been recently remodeled. She hoped Angelica wouldn't come down the back stairs. She'd no doubt want to explore every inch of the room, which would delay their dinner even more.
Sarge gave an anguished "yip" from inside the purse, reminding Tricia that the little guy needed to make a pit stop before they could head for Booked For Lunch.
Tricia crossed the kitchen on tiptoes and found the door to the backyard unlocked. With special care, she opened the door and exited the inn, quietly closing the door behind her. A lamp on the northeast corner of the house bathed the yard in a harsh white light. After three steps down, she stood on the walk laid out in concrete pavers. She looked around, saw no one, and opened the top of Angelica's purse. Sarge's head popped up like a jack-in-the-box, and he gave a anguished bark.
"Yes, I know you've got to go," Tricia said, and removed the dog from the purse, setting him onto the grass. Tricia pressed the button to release the cord on the retractable leash. Sarge trotted over to the white picket fence where he raised his left hind leg. Tricia sighed and looked away, grateful her cat, Miss Marple, could attend to her own lavatory needs.
Tricia glanced around the yard, noting how the branches in the tall bare trees danced in the slight wind, and waited impatiently as Sarge started his sniff-a-thon of the Comfort's backyard. The small patio promised many outdoor afternoons relaxing in the shade—perhaps with that sweating pitcher of lemonade she'd thought about earlier. The idea was certainly appealing. She'd spent most of her adult life living in an apartment. It would be nice to have a yard with trees and flowers . . . especially if someone else maintained it for her.
The lease on her mystery bookstore, Haven't Got a Clue, was soon to run out, and if she didn't find competent help soon to replace her former assistant, Ginny Wilson, she might as well close shop. Okay, that was an over reaction. Still, the past few months had seen a parade of men and women who just didn't fit in at the store.
She thought again about her digs above Haven't Got a Clue in the third-floor loft, where she'd lived for the past three years. She hadn't given any thought to trading it in for a real home, and she'd left it too late to start looking for a house should she lose her lease. So many of the homes in Stoneham were behemoths like the Comfort Inn—much too big for one person and a small cat. And she wasn't sure she could be happy in a tiny little cottage like where her former employee currently lived.
A noise off in the darkened part of the yard startled her out of her day dream. It was Sarge, growling.
She extended her arm to reel in a couple of feet of Sarge's leash and tugged it, to signal the dog it was time to come back to her, but Sarge wouldn't budge.
"Sarge," she whispered.
The dog yipped and growled again.
She tugged harder on the leash and called again, but the dog only yipped louder. They'd be found out for sure if this continued.
Tricia walked across the yard to intercept the dog, who had his nose firmly planted between two of the pickets. "Sarge!"
The dog pulled his head back, looked up at Tricia and barked—loudly!
"Shhh!"
She hit the button on the leash, reeling all but the last four feet in, and bend down and scooped him up. "Naughty dog! You must be quiet."
She put Sarge back into Angelica's purse, but before she turned back toward the house, she glanced over the fence and saw a mound of what looked like clothing on the other side. Taking out her keys, she pushed the little button on the fob and a little beam of light shot out. She dragged the beam over something purple—a bulky sweater—and it came to rest on a bloodied mass of tangled blonde-gray hair.
Pippa Comfort's hair.
---

Kirkus
"Barrett's sixth Booktown mystery features a quirky collection of characters, a mystery that keeps you guessing, and some appealing appended recipes."
Richmond Times-Dispatch
"In Stoneham, Barrett has created an interesting world with recurring characters, and 'Murder on the Half Shelf' is a pleasing addition to her body of work."
–Fangirl Nation
"What I love most about Barrett's writing, both in this series and in her Victoria Square series, published under the name of Lorraine Bartlett, is her gift for building up an entire community around the main character. Besides Tricia, we feel that we personally know such characters as Tricia's sister, Angelica; the elderly bookstore employee and his generous wife, Mr. Everett and Grace; and Angelica's sometime- boyfriend, Chamber of Commerce president Bob. The relationship between the sisters strikes us as genuine, showing real love between them but also the conflict of siblings. Stoneham feels that it has become our own hometown, a place of good as well as bad but where everyone knows each other."
Kings River Life Magazine
"This is a very fun, cozy, read for book lovers who enjoy delightful characters with a touch of mystery. Whether writing under the name Lorna Barrett, Lorraine Bartlett, or L.L. Bartlett, the author continues to create unique and engaging characters."
The Conscious Cat
"I thoroughly enjoyed this well-crafted and fast-moving cozy, and the twists and turns of the plot kept me guessing until the very end. But even more than the mystery, I enjoyed revisiting with all my favorite characters from the series."

Dru's Book Musings
"With the many twists and turns and a room full of suspects, the mystery kept me guessing and I was totally surprised when the killer was revealed and then that ending… awesome! This is the best one yet in a series that continues to get better and I can't wait for the next book in this wonderfully charming series."


Mass Market Paperback
Amazon ~ Barnes & Noble ~ Chapters/Indigo ~ Books A Million ~ Indiebound
As an e book!
Kindle US ~ Kindle Worldwide ~ Nook ~ Kobo ~ Apple Books
---
Check out Angelica's Recipes from Murder On The Half Shelf!