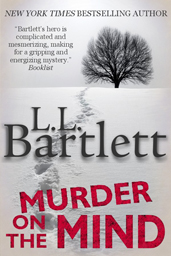 Once upon a time, an author named L.L. Bartlett (the Jeff Resnick Mysteries) was chosen to write about Booktown, New Hampshire. Her publisher asked her to write under a pseudonym, Lorna Barrett. The rest is history.
But L.L. Bartlett continued to write under that name,and the Jeff Resnick Mysteries are now her most popular books.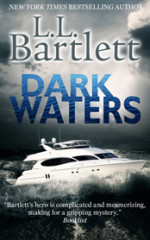 About Jeff:  When a brain injury leaves mugging victim Jeff Resnick able to sense people's secrets, he feels compelled to investigate a murder.
The Jeff Resnick Novels:
Murder on the Mind – FREE for all ebook formats
Dead In Red
Room at the Inn
Cheated By Death
Bound By Suggestion
Dark Waters
Shattered Spirits
Evolution: Jeff Resnick's Backstory
A Jeff Resnick Six Pack
Lorna also writes The Victoria Square Mysteries under her real name Lorraine Bartlett, The Lotus Bay Mysteries, plus writes short stories, and the Tales of Telenia adventure-fantasy series.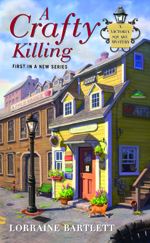 The first Victoria Square Mystery is A Crafty Killing, which Suspense Magazine called one of the best cozy mysteries of 2011.
The last thing Katie Bonner wanted was to become the manager of Artisans Alley. But when her business partner, Ezra Hilton, is found lying at the bottom of a staircase, bludgeoned to death, she has no other choice. A collection of booths for artisans and craft sellers in a renovated applesauce factory building, Artisans Alley is the main attraction in the quaint Victoria Square shopping area. But business under Ezra had been faltering—enough to provoke someone to murder?
While the cops are proceeding by the book, Katie is investigating by the booths—for the answer to the killer's identity lies in the hidden secrets of Artisans Alley itself.
Available as an E Book For:  Kindle US ~ Kindle Worldwide ~ Nook ~  Kobo ~ iBooks
The second Victoria Square Mysteries is The Walled Flower came roaring out of the gate and hit the New York Times Best Sellers mass market paperback list at #25.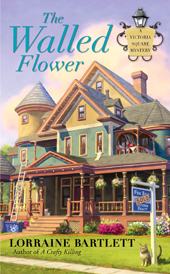 If Katie Bonner's late husband hadn't invested all their savings in the craft fair Artisans Alley—which Katie is now responsible for keeping in the black—the Webster mansion could have been hers to remodel. For years she dreamed of renovating the old place on Victoria Square into a bed and breakfast. Now that dream belongs to another young couple.
But their dream becomes a nightmare when a skeleton is discovered, sealed in one of the walls of the mansion. The bones belong to Heather Winston, who went missing twenty-two years ago. Her aunt is Rose Nash, a jewelry vendor at Artisans Alley, who is determined to find her niece's murderer, and asks for Katie's help to do it. The case may be cold, but the killer is very much alive—and ready to go to any lengths to keep past secrets buried…
Available in E book format:  Kindle US ~ Kindle Worldwide ~ Nook ~ Kobo ~ iBooks
Lorraine has also written a companion piece for the series,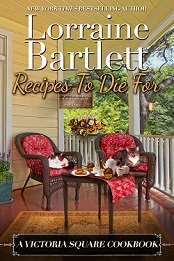 Recipes To Die For: A Victoria Square Cookbook
117 Recipes from the owner and vendors of Artisans Alley, Victoria Square, and McKinlay Mill, NY.
Katie Bonner and the rest of the locals from Victoria Square invite you into their kitchens to share tantalizing recipes and intimate stories about food, family, and life. So tie on your apron and sharpen your knives, because Recipes To Die For is chock full of culinary treasures such as Andy Rust's Cinnamon Rolls, Vance Ingram's Barbequed Ribs, and Sweet Sue's Toffee Squares. And you don't want to miss Aunt Lizzie's Cream Scones. They're to die for!
Available in print from:  Lorraine's E Store ~ Amazon
E book:  Kindle US ~ Kindle Worldwide ~ Nook ~  Kobo ~  iBooks ~ Smashwords

ONE HOT MURDER, Victoria Square Mystery #3, hit the New York Times bestsellers list at #17.
At the height of the heat wave, a tragic fire strikes Victoria Square. Wood U, a small store selling wooden gifts and small furniture, is destroyed. But the fire may just be a smokescreen—for murder. Because a body is found among the charred wreckage—and the victim didn't die from smoke inhalation. He was shot. Now Katie Bonnier is determined to smoke out a cold-hearted killer…
Kindle US ~ Kindle Worldwide ~ Nook ~ Kobo ~ iBooks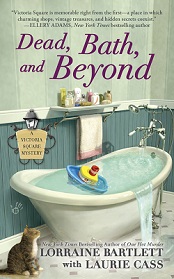 DEAD, BATH and BEYOND, Victoria Square Mystery #4
Nothing can spoil Katie Bonner's perfect day of sailing with her friend, lawyer Seth Landers. That is, until she runs into her ex-boss Josh at the marina. As an employer, Josh liked to rock the boat and can still push all Katie's buttons. After a loud discussion, she's happy to say good-bye for what she hopes is the last time. And it was. For the next day, Josh is found drowned in a bathtub at Sassy Sally's B&B on Victoria Square. Who pulled the plug on Josh? When an autopsy proves it was lake and not bath water that killed him, Katie finds herself in over her head, and races to find the killer before her life and business go down the drain.
AVAILABLE December 6, 2016 – Now Available for Preorder!
Berkley Prime Crime Edition (USA & Canada, etc.)
Amazon | Barnes & Noble | Books A Million | Chapters | Book Depository
Kindle US | Kindle Worldwide | Kobo | iBooks | Nook
Polaris Press Edition (UK, Australia)
Kindle UK | Kindle AU | Kobo | iBooks | Nook
---
Check out Lorraine Bartlett's website:  www.LorraineBartlett.com
Check out L.L. Bartlett's website:  www.LLBartlett.com
For a full list of L.L. Bartlett and Lorraine Bartlett's backlist, click here!