Tricia's cat, Miss Marple, plays a major part in the Booktown Mysteries. Cats play a major part in my life as well.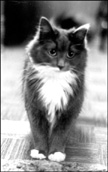 Miss Marple is based on my cat Cori-Belle. She was a lovely little lady with long gray hair, and the sweetest personality. She could be fierce if she wanted to wrestle, but that didn't happen often. For some reason, none of the other cats ever bothered her, even when she lost all her teeth and was deaf. No one tried to take her food away. They'd stand and watch as she patiently ate her dinner–which sometimes took as long as twenty minutes. She lived to the ripe old age of 20 and is still terribly missed.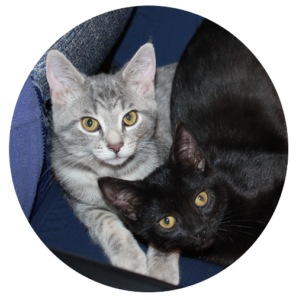 I currently have two cats, Poppy and Emma.  They are sisters. After being without cats for just over 11 months (and after a long search for our fur-ever babies), a reader who fostered cats contacted me. After a clandestine meeting in a pet-store bathroom, we brought our girls home in February 2019. They love to have life-and-death wrestling matches, play in their little kitty tunnel, and eat, Eat, EAT. Chasing any kind of bits of paper is also a favorite hobby.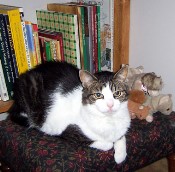 We lost our best girl, Betsy, in February of 2015 at the age of 19 and a half. She was our little princess. She preferred fresh catnip and and liked to play with her toys. She had the softest fur and was a lap cat who demanded you stay seated.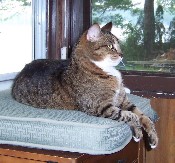 Bonnie was our beauty (and Betsy's sister). Doesn't she look regal sitting there on her cushion? She walked quietly through life and would bite if you petted her too much. She was definitely a lap cat who would sit with you for hours.
We lost our darling girl on 11-22-11.
(She was 15.)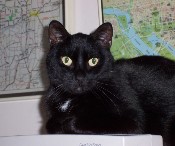 Chester was our cat-in-charge.  He was a Christmas present to my husband (from me)! He was our dominate cat, although he's not exactly fearless. (He'd evaporate during thunderstorms.) He loved cat cookies and shrimp, and as a "wool eater," liked to hunt down dangerous dust clothes and rogue mittens and gloves. We lost him just 12 days after Fred and spent a heartbreaking 11 months without cats.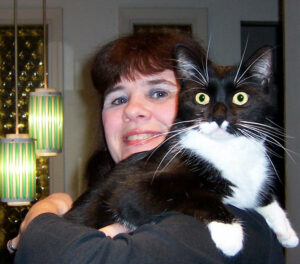 Fred was a gorgeous Tuxedo, and boy did he know it! He was spoiled rotten (and guess who spoiled him?). Fred liked to think he was dominate cat–but Chester knew better. He was my little Prince. My tiny son. I would "toss" him over my shoulder and he always purred. We would dance together. He wasn't much of a lap cat, but he did spend at least five minutes on my lap every day. He loved extra sharp cheese (and made me share). He would howl in the night, just because he felt like it. He didn't appear to be sick until his last week. It was a total shock. And that we lost him first (he was 6 years younger than Chester), broke my heart.