Excerpt : Purchase Information : Reviews
Booktown #7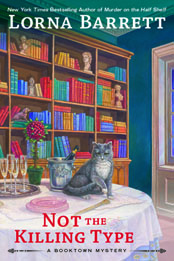 It's November in Stoneham, New Hampshire, and that means it's time for the Chamber of Commerce elections. The race is already a bit heated, as  longstanding Chamber president Bob Kelly is being challenged by a former lover—Tricia's own sister Angelica. Then local small business owner Stan Berry throws his hat in ring.
Unfortunately, it's not there for long when he's found murdered in the Brookview Inn. The murder weapon is a brass letter opener belonging to the inn's receptionist. Tricia knows there's no way the receptionist is a killer. And when Angelica asks Tricia to help clear her name and win the election, she sees little choice except to start snooping.
She soon uncovers a ballot box full of lies and betrayals, and a chamber full of people who had grudges against the victim. But were they serious enough to lead to murder? And who truly had something to gain? Tricia will have to do some serious sleuthing before she pulls the lever on a killer.
Meet Sarah Jane, Tricia's new … friend.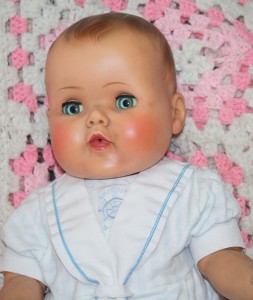 Tricia pulled on her heavy-duty gloves and forged forward. No sooner had she crossed the drive next to Stan's house when a dog started to bark. Loudly.
Tricia stopped dead, unsure what to do. The dog's barking went into overdrive, and the lights went on in the neighbor's house. Adrenaline shot through her, and instead of fight, Tricia chose flight and pivoted, running as fast as she could back toward Angelica's car.
She yanked open the door and hopped inside, breathless.
"Did you get it?" Angelica asked.
Tricia shook her head, gasping. "The dog next door started barking and the lights went on. I was afraid someone was going to come out and catch me rummaging through the trash."
Angelica sighed—loudly. "So what are you going to do now?"
Tricia squinted through the windshield into the darkness. "I guess I'll wait until after midnight and try again."
"Are you kidding?" Angelica practically squealed.
Tricia shook her head.
"What if that dog is still outside? Don't you think that'll be even more suspicious if he barks at that time of night?"
"I'll just have to take that risk."
Angelica sighed again—even louder, if that was possible. "Give me that hat," she said and swiped the knit cap from Tricia's head.
"What are you going to do?"
"Go and dig through Stan Berry's garbage, what do you think?"
"But you don't even know what can to look in."
"So, how many cans are there?"
"Four."
Angelica shrugged, grabbed Tricia's hands and plucked the gloves from them.
"What if you get caught? What will you say?"
"That I'm a freegan and I'm trying to recycle."
"Ange, if you're seen, it could ruin your chances of being elected Chamber president."
"Oh, Trish, you worry far too much," she said, yanked open her door, got out, and then slammed it.
Tricia winced. How many of the neighbors had heard that?
It was so dark that Tricia soon lost sight of Angelica, who was also clad in black. She found herself counting. She got to sixty, and counted to sixty again. Next she hit the window control, letting it down a couple of inches. No dog barked. That was something in Angelica's favor. Tricia counted to sixty again, and again. A full five minutes had gone by and there was still no sign of Angelica. What could be taking her so long?
Tricia eased the car door open and stepped outside, quickly and quietly shutting the door so that the car's interior light went out. She peered into the darkness, but couldn't see anything but the lights on in the houses along the street. More than a few of them were already dark. People sure went to bed early on Oak Street—but not Frannie, who seemed to wander in and out of her living room to check on the car in her drive.
Tricia wished her watch had a lighted dial. She started counting again. It sure was cold. She rubbed her arms and stamped her feet hoping to keep some of the chill away. Her breath came out in cloudy puffs and she wondered if she ought to go looking for Angelica.
Something touched her shoulder and she yelped—jumping at least six inches into the air.
---

Amazon ~ Barnes & Noble ~ Books A Million ~ Chapters/Indigo
Book Depository ~  IndieBound
Kindle US ~ Kindle Worldwide ~ Nook ~ Kobo ~ Apple Books
---
Check out Angelica's Recipes from Not The Killing Type.
---
Kirkus
"Barrett continues her winning ways with another mystery chock full of interesting suspects and a surprising denouement."
Richmond Times Dispatch
"Barrett lays out a key 'clue' that will have readers thinking they know the villain's identity. But don't become too confident. The best-selling author has pulled off surprises through this series, and 'Not the Killing Type' is another entertaining entry."
Kings River Life Magazine
"What is refreshing and very enjoyable about this seventh Booktown mystery is how the characters have grown and progressed since the author initially introduced them. Once an extremely irritating self-centered narcissist, Angelica has a touching moment of bonding with Tricia, where she is comforted by Angelica's completely unselfish and sympathetic love. Tricia as well has developed the strength of character to stand on her own and stand up against the more aggressive characters without endangering her life.The final reveal of the culprit of the crime is unexpected and readers may feel conflicted about how justice is carried out, but the sympathy always sides with the very likable Tricia and the town mystery readers would love to inhabit."
Feathered Quill Book Reviews
"Lorna Barrett's Tricia Miles is definitely one of the most appealing sleuths in the cozy mystery world!  If you've met the Booktown crowd you'll definitely love this one. If you haven't, you just might like to add Stoneham, New Hampshire to your armchair destination!"
The Conscious Cat Blog
"This series just keeps getting better and better. A fast moving plot, likeable characters, and a cat – this book has all the ingredients for a purr-fect cozy mystery. Filled with humor, suspense, and as a bonus, delicious recipes, this book will entertain and delight fans of cozy mysteries and cat lovers alike. I highly recommend adding this one to your summer reading list."
Fresh Fiction
"Ms. Barrett writes some intriguingly interesting mysteries with some fun characters. It's always entertaining to see what mischief Tricia and Angelica get into."
Open Book Society
"For me, the best part of the book was that I did not figure out the identity of the murderer until merely a few pages before he/she was revealed. That is almost unheard of for this seasoned mystery reader. Also, kudos to Ms. Barrett for including the characters' musings on how strange it is that Tricia finds so many dead bodies and that there is such a high murder rate for such a small town. This is a well paced, fast read, and a fine addition to the series. Recommended for those who like book themed cozies that include a pet or two and followers of the series."
Cozy Mystery  Book Reviews
"Not the Killing builds on an already strong, wonderful series."
Reader To Reader Reviews
"Highly recommended!"
Suspense Magazine
"Lots of fun!"