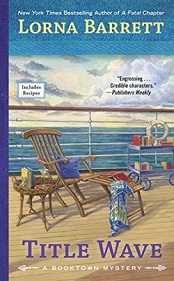 Tricia and Angelica leave Booktown behind for a pleasure cruise, but they're going to need their life jackets because a murderer has also booked passage.
While her bookstore, Haven't Got a Clue, is rebuilt following a devastating fire, Tricia Miles and her sister, Angelica, decide to book a cruise for some much needed R&R. Naturally they choose a Mystery Lovers cruise, where they can ponder whodunnit in Adirondack chairs while sipping colorful drinks and soaking up some rays.
But the fun is cut short when a fellow passenger is murdered for real. Is the killer a famous mystery author, one of his fans, or a member of the ship's crew? As Tricia tries to find the killer before they reach port, she may be cruising for a bruising…
NOW AVAILABLE IN PAPERBACK!
Amazon | Barnes & Noble | Books a Million
Chapters | Book Depository | Indiebound
Available in Hardcover, ebook format, and audio:
Amazon | Barnes & Noble | Books A Million | Chapters | Book Depository | Indiebound
Kindle US | Kindle UK | Kindle CA | Kindle AU |
Kobo | Apple Books | Nook |  Google Play
Audible US | Amazon US | Amazon UK | iTunes
Click for more audio options.
---

"You will find yourself spending their whole cruise trying to figure out who is the guilty part–with a surprise ending! A great read!."
–Fresh Fiction
"All of Tricia's knowledge of mysteries is put to good use, and she gets to the bottom of the murder."
–Smitten by Books
"The plot is delectably complex! There are so many good suspects when a victim treats most of the people in her life poorly. Some of the passengers, both authors and fans, are among those who could have done the woman in. The fact that the ship's security team wants to consider the death a suicide frustrates Tricia as the facts she saw don't add up. Even though she didn't like the woman, she wants justice for her. Protecting the cruise line's reputation is nothing compared to protecting the many passengers still on board. For Tricia to try to narrow down the suspect pool and the real motive(s) is upsetting to Angelica, who worries about losing her beloved sister. The bad guy(s)/ gal(s) were not entirely a surprise, but the motives definitely were! The novel closes on a positive note, leaving no loose ends. I highly recommend Title Wave to those who love very well-written cozy mysteries, books and authors, and even windows into what a cruise might be like."
–Open Book Society
"Humorous scenes and witty dialogue ensure an entertainingly light-hearted and fun tone. As Tricia says of herself and her sister, "Books are our lives." Readers sharing this sentiment will revel in this latest novel that celebrates the genre and the tradition of cozy mystery novels."
–Kings River Life Magazine
"Lorna Barrett really outdid herself with this one … and never shies away from adding color and complications to her characters."
–The Cozy Mystery Journal
"The family drama and tension and emotion I felt for the Miles sisters also made Title Wave a page-turner that I couldn't put down."
–A Cozy Girl Reads
A fun read, with a good set of characters, in a well plotted and written mystery.
–Final Chapter Readers Group (UK)
"I enjoyed the new setting of this book–-not bad to spend an entire book on the deck of a cruise ship, eating in the great restaurants, and of course solving a murder mystery."
–Books Are Life
"TITLE WAVE was a fast moving thrill ride. Chapter after chapter this story was filled with enough twists and turns to capsize a ship."
–Lisa K's Reviews

Tricia retraced her steps and found the library had finally opened. All the cabinets were unlocked, and Tricia spent a happy half hour going from shelf to shelf, pulling out the books, inhaling their wonderful scent, and reading the descriptions on the back covers. Nearly all of them were hardcovers, and many were large-print editions. She thought of Cathy Copper and frowned. Did a woman that young actually read for pleasure, or did she put in her time at the publisher and go home to post selfies of herself on Instagram?
Tricia, Tricia, the inner voice inside her scolded. Maybe she was just a little burned by Cathy's attitude. Still, she'd come to find a nice book to read and was determined to find one.
As she rounded the corner, Tricia saw EM stationed at one of the library's carrels by a window. Whitecaps decorated each cresting wave outside, but in the ship's inviting library, EM's attention was intently focused on her laptop's screen. She'd come prepared to fend off distractions by erecting a small placard on the desktop that said, AUTHOR AT WORK: DO NOT DISTURB. The sign seemed to be doing its job. Nobody seemed the least bit interested in bothering the great EM Barstow. EM wore the same acupressure bracelets as Fiona, but she'd also donned a bracelet on one wrist, and a watch on the other, though neither covered the ugly fabric bands.
The man on the scooter she'd seen the previous day in the terminal rode into the library. The vehicle came to a halt, and he looked around the wood-paneled room. His expression brightened when he caught sight of EM, and then he made a beeline straight for her.
"Hi, Emmie!" he called cheerfully.
EM looked up from her laptop's computer screen, her expression hardening. "Can't you read the sign?" she asked, pointing to the placard in front of her.
"Darling, Emmie, surely that doesn't include me," the man said, sounding disappointed.
"I put it there especially for you, Arnold," EM said coldly.
Tricia looked away, perusing more titles, trying not to eavesdrop, but it seemed as though EM wanted those around her to listen in.
"Leave me alone, or I will have ship's security lock you away for the rest of the trip."
"It isn't a crime to visit the ship's library. And contrary to what you think, it isn't a crime for me to speak in your presence."
"It ought to be," EM grated.
"It may interest you to know that you are no longer my favorite author," Arnold said blandly.
"Which I intend to celebrate."
Tricia took a book down, glanced at the cover, and turned it over to check out the description on the back.
"I'm not even going to attend your silly panel this morning."
"Nothing I do is silly," EM grated.
"So says the massively inflated ego," the man said theatrically. "But I'm sure we'll be seeing each other around the ship from time to time during the next few days. Perhaps if you're nice to me, we can be pals once again."
"We were never pals," EM asserted.
"So you say. Now. Ah, but there was a time," Arnold said wistfully.
"Go away."
"And just to remind you," Arnold continued, "we're on the open sea and US laws don't apply here."
EM's gaze remained hard. "Go away!" she repeated more forcefully.
"I will, my darling, but only because I have better things to do than spar with you."
Arnold grabbed his scooter's handles and backed up. Tricia watched as he headed out the door, then turned her attention back to the book in her hand. It looked like an interesting read, and she decided to borrow it.
She glanced back at EM, who hadn't gone back to work. Instead, her gaze was fixed on the swells outside the window. Could she have actually been rattled by her brief conversation with her former fan?
Tricia moved to the next cabinet filled with tomes and studied the titles and authors, none of whom were familiar. She chose another book at random and studied the description. She opened the book and read the first few paragraphs before noticing movement to her right. EM had evidently decided the library wasn't a conducive workplace after all, and was packing up her laptop—either that, or she needed to prepare for her upcoming panel. From the look on her face, she was definitely unhappy.
Tricia replaced the book on the shelf and decided to just borrow the one book. She walked briskly to the checkout desk and surrendered her keycard. The librarian on duty swiped the card and handed it and the book back to Tricia. "Enjoy!"
"I'm sure I will," Tricia said, and headed out of the library. She wasn't sure where she'd end up on the ship to read, but she had several hours to kill before Fiona's panel and she intended to enjoy them.
A sunny day. A relatively calm sea. A book in hand.
Bliss.
And yet, part of her mind was still pondering the odd conversation she'd witnessed between EM and her former fan. What had he meant by his cryptic remark about laws not applying on the open sea?
Tricia shook her head. It wasn't any of her business. And yet, her curiosity had been piqued. The thought that someone annoyed EM as much as she annoyed others was rather amusing. Still, it was apparent that the world-famous author had been disturbed by the encounter.
What did she have to fear
---
Available in Hardcover, ebook format, and audio:
Amazon | Barnes & Noble | Books A Million | Chapters | Book Depository | Indiebound
Kindle US | Kindle UK | Kindle CA | Kindle AU | Kindle Worldwide
Kobo | Apple Books | Nook | Google Play
Audible US | Amazon US | Amazon UK | iTunes
For more audio options, click this link.